Finally going to sell my beloved HMC-150s. We've shot a LOT of weddings with these cameras and they have served us really well. Even when we added DSLRs to our arsenal I still find my self preferring these cameras in several situations. I'm willing to sell them separately but I think this setup is meant to be sold to someone looking for 2x cameras. With everything included in this case you can provide 2x HD coverage of a day long event no problem. I'll even include our SDHC cards that have worked flawlessly for us the past few years.
- 2x Panasonic HMC-150 (~ $3,000 retail each)
- 3x Panasonic High Capacity Batteries ( ~ $160 retail each )
- 2x Panasonic Low Capacity Batteries (included with cameras)
- 1600 Pelican Case with foam ( ~ $160 case)
- 2x Battery Chargers (included with cameras)
I paid over $6,500 for this setup and I'm asking $4,500.
I've got a lot of the original packaging, accessories, etc that came with the cameras. I'll obviously include all of that stuff if someone is interested.
Camera #1 has 223hr
Camera #2 has the bug that shows incorrect hours, something over 3,000 hours lol
Anyway, if you're interested shoot me an email info@berrygoodvideo.com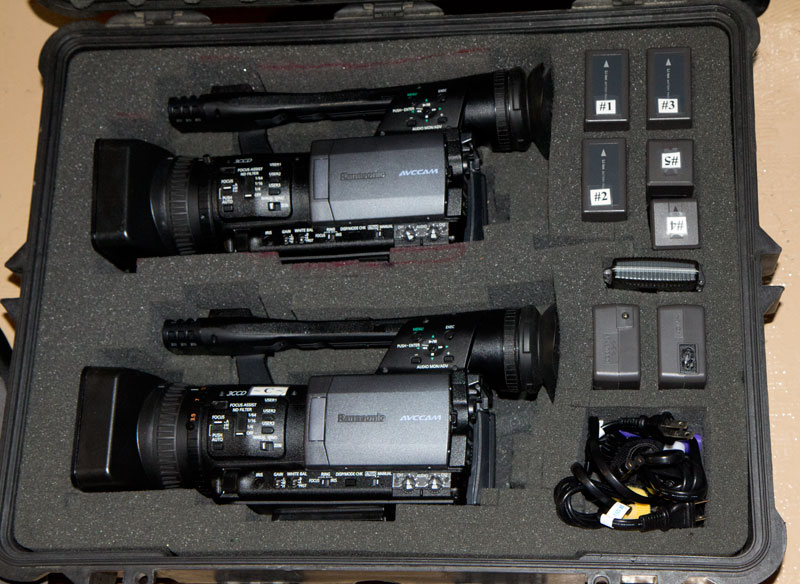 _________________________________________
BerryGood Video
|
Facebook
|
Twitter
Kansas City, Missouri