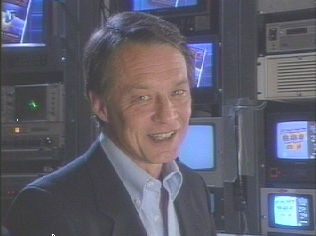 Ready to start or expand your video business?
Need help with business strategy or on a current production?
Then, call Hal Landen at (401) 253-2800 for a FREE initial consulting session.
"I'm a video producer and I regularly rely on Hal for his expertise and knowledge in the sale of my videos to the public . Matter of fact, I can't even count how many times he's rescued me from making some pretty expensive mistakes! Thanks, Hal. !" — Harry Lessinger, Harry & Maia Productions, LLC
Background
Hal Landen's production credits include:
* CBS "60 Minutes"

* ABC "20/20″

* NBC "Saturday Night Live"

* PBS "Lehrer Newshour"

* Australian "60 Minutes"

* QVC

* AT&T

* Merrill Lynch

* and scores of others.
He produces films and videos for broadcast and a wide variety of corporations, non-profit agencies and small businesses. He has coached hundreds of successful first-time producers and pros.
Hal is the author and producer of books, special reports, videos and information products on the business of video production, including:
* The book Marketing With Digital Video: How To Create A Winning Video For Your Small Business or Non-Profit

* The video Marketing Video Magazine

* The disk catalog of public domain footage Create Amazing Videos On A Shoestring

* The special report Letters of Agreement for Ambitious Producers

* The home study course Professional Video Producer

* Numerous other articles and guides at Video University
Hal also gives seminars on the Business of Video Production for professional groups and colleges. At a Videomaker Magazine Expo he was asked to give two seminars on video business topics. In the word of one attendee "your seminars were the best thing at the entire Expo."
Wall St Journal correspondent Joe Connolly interviewed Hal for several segments of WCBS All News Radio. " The Business Radio Network's Working At Home show interviewed Hal for a 30 minute show.
Testimonials About His Productions
"Hal Landen's commercial tripled our response rate yet cost only 1/3 as much as our previous spot.!" — Tom Walker, Sales Manager, Financial Services
"Your video helped us raise several million dollars from a group of foreign investors. And we hadn't even intended to use the tape that way!" — Paula Slagle, Alloy Technology International
"Since I had never tackled a Video News Release, your help with the strategic planning was invaluable." — Kathleen Leach, Merrill Lynch Realty
"The footage you shot in Brazil was so well-received, we've decided to expand the show to a one hour documentary and sell it around the world, instead of just doing one segment." —Julie Ladner, Australian TV
"I couldn't recommend Landen more highly." —Joe Illigasch, Director of Operations, CBS 60 Minutes
Whether You Need Advice or Production Help
Call (401-253-2800) or email Hal Landen today.
You'll receive his best advice based on YOUR specific project or situation. If he can't help you, he won't waste your time or his, but will refer you to an expert who can.