The Video Guide to Professional Wedding Videography
DVD plays in both NTSC and PAL DVD players. 110 minutes.
Special Offer!
Get the Video Guide DVD and the book, Wedding Video for Profit, and save!
Item #115a
Price: $129.77
(postpaid in the U.S.)
90 Day Money Back Guarantee

Here's what you get:
Wedding Video for Profit, including the workbook, CD and documents and resources
The Video Guide to Professional Wedding Videography described above.
This DVD was produced in 2004 and has become dated. We are working on a new version of this DVD.
ISBN 1-888093-08-0
With stunning examples from some of today's top wedding videographers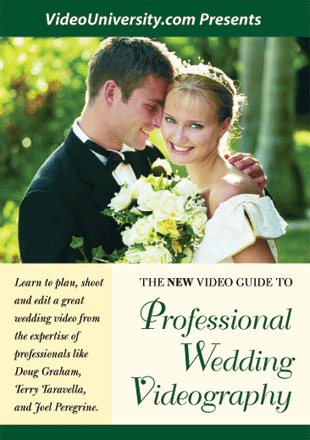 Click to see the entire cover
Learn from the best How To Shoot and Edit a Professional Wedding Video
This eleven part video guides you through all the steps you need to follow to produce a client-pleasing $1000 plus wedding video. This video is intended for the beginning wedding videographer. So if you've done 4 or 5 complete wedding videos, this video is not for you.
But if you are just starting out, this video will teach you the right way to do things in this lucrative business. You'll learn from the expertise of people like Doug Graham, Terry Taravella, and Joel Peregrine. You'll see scores of examples from actual wedding videos which demonstrate the professional techniques we explain.
These days your equipment choices are better than ever. You'll learn about the current cameras and accessories, audio mixers and wireless mics, editing systems and the best format for successful wedding videography. But better than that, you'll learn where to ask the experts about the best equipment they use. So you'll see how to stay on top of the equipment decisions as things change.
Click here to read what others say about this DVD
You'll learn how to plan the video. Because planning is one of the essential keys to producing a successful wedding video. So we'll prepare you with all the vital information such as where to place your mics, camera positions, and many time-tested ways to avoid problems. Successful wedding videos don't just happen. They are planned.

Learn How To Tell A Compelling Story On Video
A common mistake beginners make is that they try to create a work of art with lots of special effects and other "eye candy." That's fine and you will see some stunningly beautiful examples in this DVD that may bring a tear to the eye. But don't forget that wedding videos are first and foremost the story of two people joining their lives in front of friends and families.
What your clients want, whether they say it not, is a compelling documentary story of their wedding and video is the ideal way to tell this story. A good story has a beginning, a middle and an end. We'll show you you to tell a good story and then, if you choose, you can use special effects in post production. But just make sure you capture the important people like grandparents and other family members. They won't be around forever.
Some of the storytelling techniques you'll learn:
Great ways to begin the story of a wedding.

The tricks of shooting the wedding preparations and other unstructured parts of the wedding day documentary style. We reveal the secrets and show you fully edited wedding preparation scenes from a variety of weddings.
Learn how to make a powerful ending for your clients.
Shooting the Ceremony and the Reception
"I just had my first solo wedding a week ago.
I'm glad we studied this DVD. It was very helpful, especially for my wife who is brand new to the business." M Tant
From camera placement and mic placement to lighting and sound issues you'll see exactly what to do.
How to use a handheld camera and mic at the reception. Important advice on lighting.
A Few More of the Keys to Success
You'll Learn in This Video:
How pros handle lighting and sound in every aspect of the wedding
Discover how to do easy and beautiful backgrounds for titles you can use again and again
How to prefocus on key events in the ceremony
7 pro audio tips help you prevent the most common audio problems
See what lux really means and choose the best camera for low light situations
How to capture the emotions of the moment at the ceremony
When to shoot handheld and when to definitely NOT shoot handheld
How much to shoot at the reception
5 things you must determine at the wedding rehearsal
4 of the most common reasons wedding videos fail and how to avoid them
12 things that separate pro from amateur
Learn the single most important thing you must do at the reception
AND LOTS MORE!
"I am very pleased with the wealth of information contained in this DVD." Rob Teifeld
Bonus Tips to Improve Your Videos and Delight Your Clients
Helpful tips from pros who have been there and done that. Why re-invent the wheel?

One Good Wedding Video Will Lead to Another
So start off the RIGHT way! Learn how to produce an emotional, entertaining video your clients will treasure for decades to come. Word of mouth is the absolute best way to build your wedding video business. By taking the time to learn how to produce a really good wedding video you are creating an on-going source for more bookings. To succeed in the business side of wedding videography you'll also want to read our companion book
Wedding Video For Profit: A Business and Marketing Guide

90 Day Money-Back Guarantee
We guarantee this video will pay for itself hundreds or times over or simply return it for a full refund. It's that simple. If you've been doing wedding videos for a while, this video will be too basic for you. So if you've already done 4 or 5 wedding videos, we recommend that you do not buy this video, but instead purchase the book Wedding Video For Profit: A Business and Marketing Guide
Special Offer
When you buy both the book and the video, you're building a very solid foundation for your business success.
Get 'em both and save!
We want you to be completely happy with your purchase, check out our Money Back Guarantee and Return Policy.