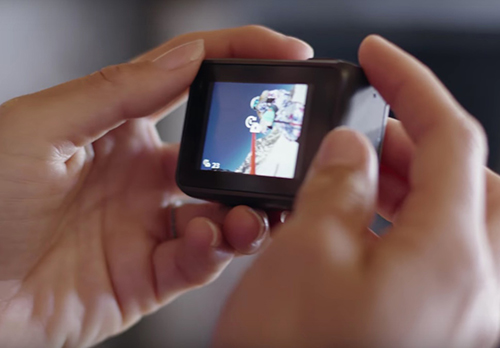 GoPro introduces 2 new GoPros and a Drone.
The new Hero 5 Black ($399 )includes a 2-inch touch screen display. The new Hero 5 Session ($299) is intended as an entry level camera. Both cameras have built-in waterproof casings, good for up to 10 meters. Both cameras can shoot 4K video at 30 frames.
The Hero 5 Black will take 12-megapixel stills and can shoot RAW. The Hero 5 Session only takes 10-megapixel stills. Both cameras feature a simple one-button control system, electronic stabilization during video capture, as well as a new linear view setting.
Voice Control
The cameras feature built-in voice control with in seven languages (English, German, French, Italian, Spanish, and Chinese). More languages on the way. You will be able to say things such as "GoPro take photo."
GPS and Audio
The Hero 5 Black has GPS for automatic location tracking. It has three onboard microphones and can records stereo audio with active noise cancellation built in.
A new cloud connection feature will allow either camera to auto-upload footage to your GoPro+ account over Wi-Fi while the camera is charging. You can use the GoPro+ mobile app to edit your video. There is also a new Quick Key fob with a built-in SD card slot. When your footage is uploaded to the GoPro+ cloud, it can also creates edits. Everything is compatible with your existing GoPro mounts.
Expected Availability is October 2, 2016.
GoPro Drone – the Karma
The Karma is $799 without camera, $1,099 and $999 with either camera. This drone has a compact design with folding blades so it will fit in a backpack. The gamepad-like controller and an easy-to-use interface makes this drone easy to fly. The controller menus are simple. It only takes a couple taps to set the Karma to go from one point to another in any length of time. There are two main buttons on the remote. One starts and stops the drone. The second button tells the drone to return to the launch site. The Karma will pair with either the GoPro Hero5 Black, the Hero 5 Session, or the Hero4 Black/Silver.
Removable Stabilizer Grip
The Karma was designed as a system rather than only as a drone. Fro instance the stabilizer is removable so you can you can use it handheld to stabilize your GoPro as you perform acrobatics or other physical moves. On the stabilizer grip you can change the camera modes, shutter button, change the stabilizer's angle, and power the camera on and off. The grip also works in the GoPro mounts.
Available October 23rd, 2016.
These New GoPros And A Drone are a good sign that the company can come back from lackluster sales of last year.
Keep Reading...