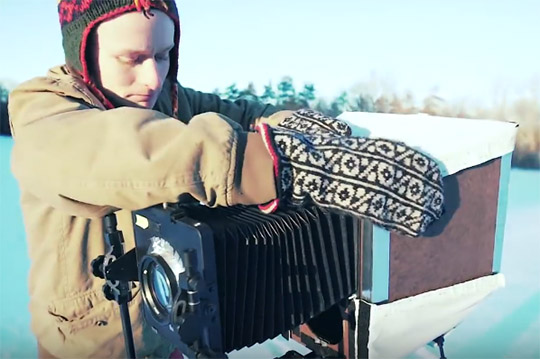 I just completed designing and building an 8×10 video camera, the first in the world that I know of. Essentially its off-axis reimaging of a projected image. It's a bit like IMAX, but waaaaay bigger. – Zev Hoover
Before you get too excited, the camera is indeed an 8 x 10 Video Camera, but the sensor is not 8 x 10. It's an off-axis reimaging of a projected image. He uses a very wide angle lens – an old Irix 15mm f2.4 Firefly and a sensitive camera which is a Sony a7s. In the design phase he used C4d virtual cameras to model the fields of view of the different lenses he had. He also wanted to ensure that the slider didn't appear in the bottom of the shot, even at infinite focus. A photo of the C4d virtual camera appears on his blog post. C4D from Maxon is positioned to become the tool of choice for 3D Hollywood post-production and visual effects houses.
For his 8 x 10 video camera Zev Hoover found an old fashioned bellows camera front end from a Ukranian company. It came with a huge large format lens on the front. Then he built an 8×10 camera box around it. Since he didn't have an 8×10 image sensor, he used the principles behind the Camera Obscura to get a large format image projected on a white background. Then he shot that image with a Sony a7s full frame in 4K. But the camera angle of the Sony camera needed to be shifted to avoid parralax issues. He used as lens filter. As Hoover explains "I applied 12mm of shift to shoot off axis and not get any perspective issues."
The wide field of view provides an extremely shallow depth of field as is evident in the YouTube video. The set up losses some light, but the Sony a7s is very good in low light which makes it ideal for the 8 x 10 Video Camera. The slider enables him to do a very smooth rack focus which otherwise would be kind of rough. He uses an external monitor.
I've always liked people like Zev Hoover who twist the idea of video a little like this guy who put a GoPro inside a Betacam Camera Body. Or the Google Cardboard VR viewer. Way to go Zev!
Keep Reading...