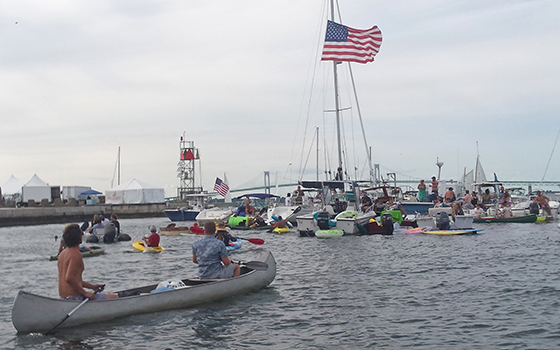 Newport Harbor, Rhode Island, Sunday, August 6, 2017
(This is a vacation day. It has nothing to do with the video business.)

The Newport Jazz Festival is an amazing event, not just for the music even though the music is usually wonderful. One of the things that makes it so remarkable is that it is on a spit of land on the water called Fort Adams. When I can, I like to take my boat because you can anchor right off the point. This allows you to see and hear the main stage. If that weren't enough, it is like a circus on the water. Every type of vessel you can imagine and some you can't arrives for a day of fun. From mega yachts to kayaks and a jet ski with a Yellow Labrador draped across the jet ski seat. I saw five small German Spitz dogs standing on the bow of a small skiff making its way through the boats.

Some people have been known to drink during the festival. You might see a swimmer with a can of beer in his hand. People dive or belly flop from tall boats. Anchoring in this environment can be a challenge. As more boats arrive and the wind or tide changes, you may have to pull the anchor and drop it somewhere else. For the most part the crowd of people and boats takes care of each other as is the custom on the water.


This year my first mate Deb and I did not take the sailboat since that makes a long day – 3 hours each way including sailing home at night. What we did instead was to take the small inflatable dinghy by car. When we finally got the dinghy to the waters adjoining the festival, we headed for a group of dinghies which had "rafted" together. One boat drops an anchor, the others boats tie themselves to that boat. You must ask permission which is usually granted. It's an informal arrangement where you meet kindred souls – people of all ages who love being on the water and hearing live music.

Someone took our line and tied it to the bigger wooden boat in the center of this floating raft. Time to relax, have a beer, and get to know the people in the other boats. People are standing in their boats dancing to the music. Strangers become friends.


The 24 ft wooden boat had towed a much smaller rowboat that was fitted with a propane stove with a large pot on top. It took up most of the space on the rowboat and was very securely tied down. There's no room for people on the "cook" boat. The tall man they called Gator brought his "cook" boat closer and ladled two large plastic cups with Portuguese Kale soup with Chourico (pr. cha-reese) and many veggies. Delicious! We had never met these people before but we became an instant community.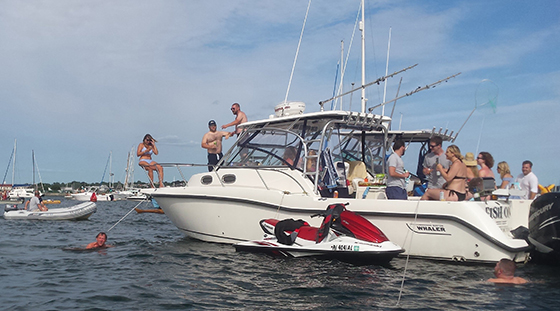 In Newport harbor you see the most elegant sailing yachts from around the world. There are fishing boats, trawlers and everything in between. A floating train of large, colorful inflated ducks, flamingos, and giraffes floated by us. I saw a water plane flying low over the harbor, although I couldn't see where he landed. Newport harbor is a feast for the eyes even when it's not hosting a music festival.

Later that afternoon, I saw Gator in the water swimming with his cook boat to other rafts of boats to share his hot soup. He said he does this every year for the two Newport festivals – jazz and folk. His cooking boat changes every year. It's designed to carry only stove and cooking pot, not people. One year he devised a cook barge out of a large steel tank with roaring fire. Must have been quite a vessel. But it did not make the harbormaster happy so was scaled down the next year.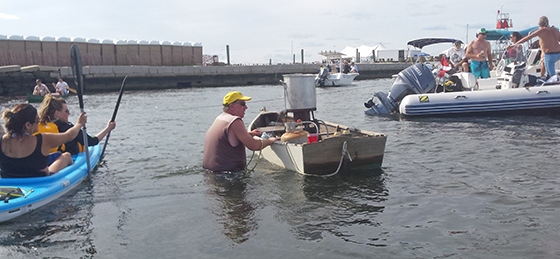 On the way home we found a dollar bill floating in the water. This year's Newport Jazz Festival floating party is one I will never forget.