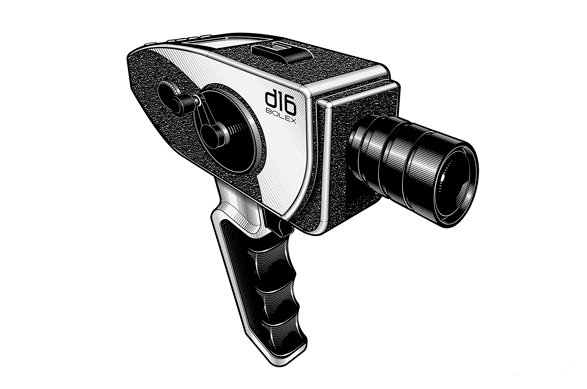 Affordable Digital Bolex Captures RAW
They call the Digital Bolex a "digital cinema camera." This means it shoots RAW images also called Digital Negatives rather than the compressed video we all use today. Unlike the expensive digital cinema cameras like the Sony CineAlta, RED ONE, Arriflex D-20, Panavision Genesis, and others used on big budget films, the Digital Bolex is designed for consumers as well as pros. It's inexpensive, compact, and easy to use just like its namesake, the wonderful film Bolex. This was one of the film cameras I owned and occasionally used on freelance jobs. I had the 16mm version, but there was also an 8mm version.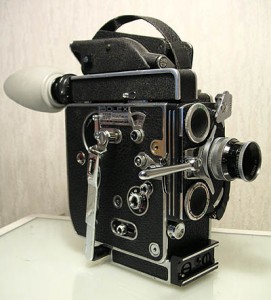 The Bolex H16 built by clock makers.
But Look At This New Wonder
The Digital Bolex Specs:
Resolution 2048 x 1152 (Super 16mm mode) 1920 x 1080 pixels (16mm mode)
Format Adobe CinemaDNG, TIFF, JPEG image sequences
Color depth 12 bit 4:4:4
File size 2 to 3 MB per frame in RAW
Sensor Kodak CCD 12.85 mm (H) x 9.64 mm (V)
Pixel Size 5.5 micron
Frame rate up to 32 fps at 2K, 60fps at 720p, 90 fps at 480p
Sound Balanced, 2 channel 16 bit, 48 kHz via XLR
Viewfinder: 320×240, 2.4" diagonal, with Focus Assist
Video out 640 x 480 B&W via 1/8" video jack (HD-SDI available in separate unit)
Ports 1/8" video, headphone, USB 3.0, Audio XLR (2), 4-PIN XLR
Data Storage Dual CF card slots, SSD (buffer drive)
Power Internal battery, 12V External via 4 pin XLR port
Body Milled steel and hard plastic
Size (body) Approximately 5"H (without pistol grip) by 4"W by 8"D
Size (grip) 5"H by 2"W by 5"D
Lens mount C-mount comes standard, PL, EF, B4, are available
Weight 5lbs
ISO Options 100, 200, 400
Also in the box pistol grip, USB 3.0 cable, internal battery, 4 pin XLR Battery cable, video cable, transcoder/raw conversion software
Joe Rubinstein set out to raise money on Kickstarter to manufacture the first 100 Digital Bolexes.
So far they've raised $287,759. They've sold out of the 100. You could have bought one for a donation of $2500. The cameras is expected to become available to the general public in late Summer/Fall 2012. The estimated retail price for the D16 and its accessories is $3299
BTW, did you know that Kickstarter will probably raise more than The National Endowment of the Arts this year? Yancey Strickler, one of Kickstarters three co-founders, says they are expecting to distribute over $150 million which will fund users projects in 2012. The entire 2012 budget for the National Endowment of the Arts (NEA) is $146 million. Things are changing fast.
PS. If you pick up a film Bolex on eBay or in a pawn shop, You can learn how to use it with the Virtual Bolex Tutorial.
Keep Reading...