Camcorder Accessories
By Stuart Sweetow
Inventors are busy at work making products to help videographers shoot better video with less effort. Here are some accessories that can complement your camcorder and enable you to expand your production repertoire.
---
Micro LED Camcorder Light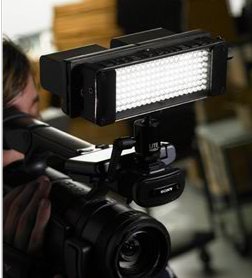 One of the most exciting technologies that has filtered down to videographers is LED lighting. Litepanels was one of the first companies to utilize these efficient, cool lights. The company recently introduced a mid-priced system designed for small camcorders, the MicroPro, priced at $469. Similar in size to their $349 Micro LED, it produces twice the amount of light. Litepanels says that the MicroPro provides 560 lux of illumination at 4 feet vs. 280 lux for the Micro. It operates on six AA batteries.
Since most LED lights cast a blue color, the unit comes with an orange filter to match indoor light color. The orange filter converts the light from 5600K to 3200K. The filter assembly also accepts a diffusion filter for a soft look, and the entire assembly flips up and out of the way for fluorescent and outdoor shooting. It also has a dimmer knob to regulate the brightness.
---
Innovative Camera Support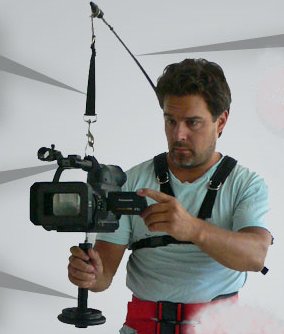 Lightweight as they are, even the smallest camcorders cause fatigue when you hold them for a long time. You'll probably want to get a tripod for the most stability such as when recording stage shows and lectures. When you want the flexibility to move from place to place, a shoulder bracket helps steady the camcorder for handheld shots. If you want to walk or run while you shoot you'll want a stabilizer, such as a Steadicam, to enable you to glide through the scenes.
If you want a Steadicam feel without the Steadicam price, the $349 Atlas Camera Support may be the ticket. It uses a waist and shoulder harness that attach to a rod that comes from the rear to support the camera from the top. The system also has a handle that supports the camera from the bottom. The top rod transfers the weight of the camera to the harness, while the bottom handle lets the operator control the position of the camera. The handle has a two-pound weight at the bottom that provides additional stability.
http://www.atlascamerasupport.com
---
ModoSteady: Combination Stabilizer, Tripod and Shoulder Bracket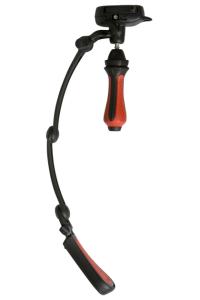 If $349 is too much, consider the ModoSteady system starting at $99. Made by Manfrotto, the maker of popular Bogen tripods, it's three units in one: a tabletop tripod, a shoulder support and a counterbalancing stabilizer. Weighing in at a tad over a pound, this 3-in-1 unit is like the Swiss Army Knife of camcorder supports.
In the stabilizer mode, you unfold the unit and adjust the position of your camcorder so that the center of gravity of the camcorder lines up with the counterweight that hangs below. This creates a system with the camcorder balancing on a pivot, similar to Steadicam-like systems. It handles camcorders weighing up to two pounds.
Fold the ModoSteady into the shoulder pod position, and one end of the unit, which has a rubber pad, rests against your shoulder while you hold it steady with your hand. In the table tripod position, the extension arm and two other arms form a tripod.
---
Ikan Camera Cradle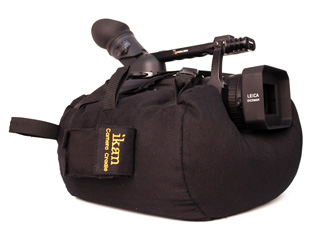 If you want to mount your camera just about anywhere, consider the $99 Ikan Camera Cradle. It looks like a bean bag on steroids. You place the camera in the indentation on the bag, and place the bag on a table, on the ground or on a car. The unit, filled with micro beads, conforms to most any surface and supports the camcorder with more flexibility than a tripod.
Using the padded shoulder strap and the adjustable belt strap, the Camera Cradle hugs the camera to help you create steady shots. Two straps go over and around the camera to cradle it in. Two side pockets accommodate wireless mike receivers and other accessories.
---
Levelcam and Levelpod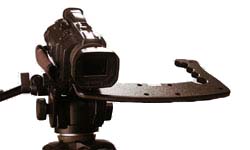 Okay; times are tough. How about a $39 camera support? The Levelcam is a simple support that screws into the tripod socket of your camera and extends out to the left. This lets you hold a camera with two hands.
Inventor Tim Nixon, who shot with 16mm and Betacam cameras noticed that the handheld shots from palm-sized camcorders were not as steady as those with bigger cameras.
The inspiration came to him in the editing room. While editing "embarrassingly jerky handheld video," he picked up his clipboard, searching for better takes. Realizing that he had better control over the clipboard than his small camcorder, he tried attaching the clipboard to the base of his camcorder. The Levelcam camcorder support was born.
For larger camcorders such as the Panasonic HVX200 and the Sony HVR-Z7U, Nixon made the $399.95 Levelpod. It is a shoulder-mount system with a counterweight that hangs over the back. Nixon calls it a "self-leveling camcorder balancer." It includes an integrated monopod that extends to 80 inches to provide even more stability. The Levelpod comes with a Levelcam, and it may be used with or without the Levelcam.
---
Sony Remote Control Tripod
Broadcast camera operators usually have remote controls for zoom and focus on the tripod handles. This helps you control camera movements while zooming and handle controls are a lot more stable than pushing zoom controls right on the camera. You can purchase a remote control to install on your own tripod, but they cost at least $200. For less than that you can get a tripod with an integrated remote—the $155 Sony VCT-80A. In addition to zoom, the remote has start-stop functions as well as playback control.
The tripod has an elevator mechanism to allow you to get shots as high as 5-1/3 feet off the ground. Another pro feature is the built-in level that helps you align your camcorder even with the horizon.
---
Grizzly Pro for Complete Control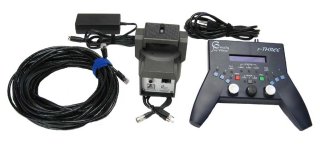 Want remote pan and tilt as well as zoom and pause control? Want to be able to control your camcorder from 50 feet away?
The Grizzly Pro ($1200) consists of a remote-controlled pan/tilt head that mounts atop a tripod, plus a remote control that looks like a video game controller. Between the remote control and the camcorder connects 50 feet of Ethernet cable. The system comes with a power supply for the pan/tilt head.
If you videotape weddings, you can probably place your camcorder and the Grizzly Pro at the back corner of the altar and get shots you would never be allowed to do with a camera operator. The entry-level system, called the r-One, controls a single camcorder. You can get systems that control two or three camcorders and even perform live switching of the video signal between them.
---
Software to Reduce the Shake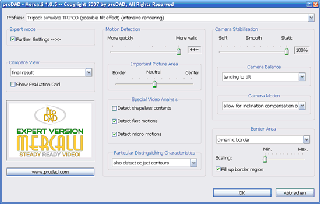 Even with stabilizing devices and tripods, sometimes you still get camera shake. Mercalli ($119) is a software application that works with most Windows editing systems to electronically stabilize shaky footage.
The system detects and distinguishes between intended movements, such as pan or zoom shots, and unintended bumps and shakes. Whenever it detects any shake or bounce, Mercalli stabilizes the frame by repositioning the entire image to compensate.
You can access it just like other program filters or video effects and apply it to a video clip. Mercalli may be set using an automatic mode or you may make adjustments to different parameters.
http://www.prodad.com (Mercalli)
---
Pinnacle Analog-to-USB Transfer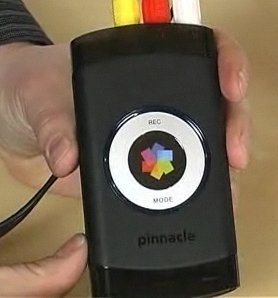 The Pinnacle Video Transfer ($99) is a small box that converts analog video and audio to USB 2.0 without a computer. The box encodes to MPEG-4 in H.264 at resolutions up to 720×480. It also supports PAL.
The unit has inputs for S-video, composite video and stereo audio. It can capture to your computer hard drive, to a mobile device such as an iPod, to a Playstation Portable (PSP) or to a flash memory stick.
While resolutions of 720×480 are possible when recording to a hard drive or fast flash drive, capturing to an iPod is limited to 640×480, and the resolution limit to a PSP is 320×240.
---
Canon Standalone DVD Burner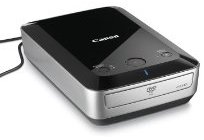 You can capture AVCHD video to DVD media using Canon's DW-100 DVD burner ($170 street). Designed to complement camcorders with flash memory, the unit works without a computer and connects to the camcorder via USB 2.0.
Users have three burn options — copy the camcorder's entire contents, archive new and changed files, or copy a personal playlist (created in-camera). When connected to an HDTV monitor via a compatible camcorder, the Canon DW-100 DVD burner supports playback of AVCHD movies.
The unit is also compatible with DVD-R dual layer media, allowing storage of up to 2.6 hours of HD movies, according to the company. The portable burner has only three buttons: power, record and eject.
---
Filter Out the Wrinkles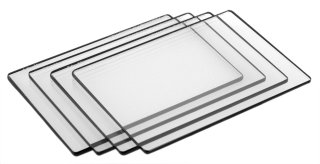 Want to make your clients really look good? Try one of Schneider's new Hollywood Black Magic diffusion filters that screw onto the front of your camera. The filters are designed "remove unsightly blemishes and wrinkles while providing a smooth transition in the highlights."
Their HD Classic Soft filters use what the company calls "Micro-lenslet technology." The Black Frost filters use "Black Micropore technology." The filters soften bright highlights while maintaining rich colors and black levels.
http://www.schneideroptics.com
---
Logo Windscreens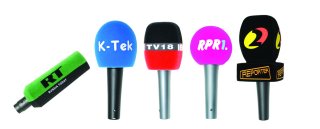 Just like the networks, you can display your logo on a custom windscreen from K-Tek. The company provides the printed windscreens in sizes to fit the smallest handheld mike to a larger unidirectional microphone. The windscreens are designed to suppress wind noise while not interfering with acoustics. http://www.ktekboompoles.com
---
Inflatable Camera Bag for Air Travel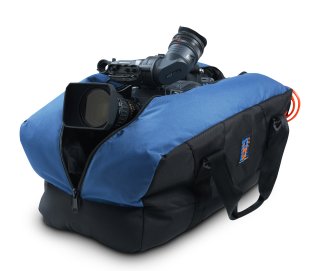 If you have a full-size camera, its case sometimes is too large to be a carry-on. Petrol's new Inflatable Airline Bag folds into a zippered nylon pouch. You carry the camera on board without a case, and stow the folded bag in your carry-on.
Once on board, you put the camera in the duffle-style bag and blow into the inflation tube to surround your camera with a cushion of air. It then fits safely into the overhead compartment.
---
Solid-State Recording on CF Cards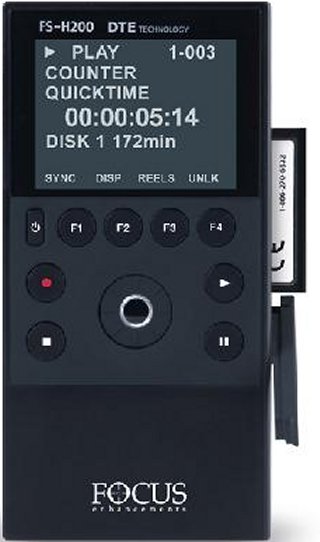 Focus Enhancements has been making solid state recording adapters for camcorders for many years. Now they have a unit that uses removable compact flash (CF) cards. Measuring 2.75″ wide x 5.4″ high x 1.25″ deep, the Focus FS-H200 attaches to the camcorder via FireWire. It lets you record both on its CF card and onto your videotape simultaneously
With a 32GB card you can record up to 2.5 hours of HDV video. The system natively records QuickTime HDV and it exports directly to Final Cut Pro. The Focus FS-H200 also supports various editing applications from Adobe, Avid and Grass Valley.
http://www.focusinfo.com/fsh200.asp
Keep Reading...