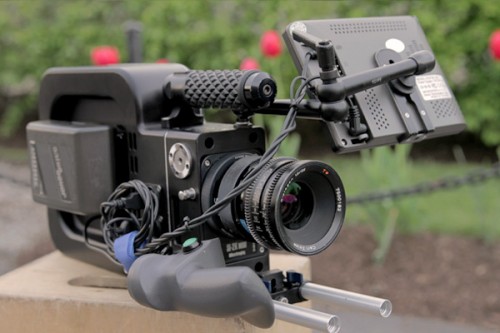 It looks like a 16mm film camera, but it's a custom-designed housing that includes a Silicon Imaging SI-2K Mini Camera Head and an Apple Mac Mini. The camera head produces digital cinema class 2048×1152 resolution. This SI-2K Mini camera head has been used as a second camera in films like Slumdog Millionare and 127 Hours. The small form Mac Mini
has an HDMI video port and measures 7.7 inches square and 1.4 inches thick. The SI-2K Mini's filmic 2/3? CMOS Imager has 11 stops of dynamic range, and a workable ISO range of approximately 160-500 ASA.
The camera is called Black Betty. She only has two physical buttons: on/off and start/stop. Everything else is done with a 7 inch Xenarc 720P HDMI touchscreen. Black Betty has an interchangeable lens mount that can accommodate PL, B4, Nikon, C, PV, and BNCR, to name a few. The SI-2K Mini's sensor is easily covered by 16mm and Super 16mm lenses. You can even use a lightweight 16mm zoom lens.
The camera runs Windows as well as Imaging software called SiliconDVR from an internal solid state drive.
This camera is a project of two guys: Adam Van Voorhis, cinematographer and maker who works at Rule Boston Camera as the Equipment Manager. And Mike Szegedi, experimental filmmaker and maker, who works at Bluefin Robotics as Senior Manufacturing Engineer.
The idea came about when they were discussing a better kind of camera for documentary work. As Adam says "I missed the run and gun cinema approach that I could operate efficiently by myself with a 16mm shoulder camera and zoom. What an unnecessary pain in the butt DSLRs and the like had become with rigs full of bits of gack, shifty shoulder pads, and counterweights." It took them two years, but they created a very interesting alternative, the Black Betty Camera.
Does the world really need another camera? I don't know, but I surely like this one. You can't buy this camera yet, but you can rent it through Rule Boston Camera. Read the fascinating story of the camera at Adam and Mike's website.