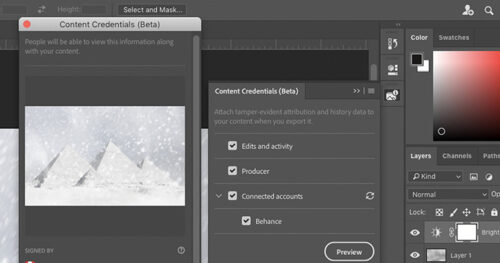 As another sign of how big NFTs are becoming, Adobe will begin allowing creators to create Non-fungible tokens or NFTs through a new Photoshop feature. This function will be a part of the 'Content Credentials' project by Adobe. Content Credentials is designed to provide and assess digital content provenance and attribution. It is a natural extension of the existing File Information tab where you can add contact and copyright information to an image.
Content Credentials will go a step further to record of ownership of works of art. Photoshop users will have the option to "prepare as NFT." This will be available on all key Adobe software. Those who create NFTs in Photoshop will soon be able to link their Adobe ID with their crypto wallet. A crypto wallet can be software or hardware, but it is required to create and sell an NFT. This Photoshop feature should prove that the NFTs from a particular creator are authentic. NFTs are theoretically protected from copying because they are recorded in a blockchain. This is a digital signature which certifies who owns it and that it is original. But scammers have flocked to this new form of art ownership. So it's important to do your homework in this marketplace.
Avoid NFT Scams
This market has attracted billions of dollars and along with that come scammers. This excellent article walks you through the five most common NFT scams and how to avoid them. It's called "The 5 Biggest NFT Scams and How to Avoid Them." Highly recommended if you are interested in NFTs. And if you are a video creator, studying the NFT market is a good idea.
When the new Photoshop feature is released, NFT marketplaces like OpenSea which claims to be the first and largest NFT marketplace will be able to integrate with Content Credentials and show Adobe's attribution information. The feature will then be a huge step towards the prevention of NFT art theft. Scammers around the world have been able to fool NFT buyers by selling an NFT that did not really belong to them or were simply lifted off an original NFT.