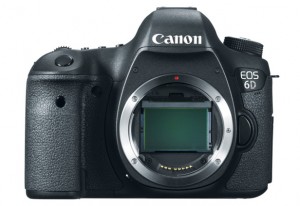 On the heels of Nikon's recently announced D600 which is $2,096.95 body only with full-frame 24MP D600, comes Canon's reply: the 6D.
The Canon 6D is also a full-frame SLR. It adds Wi-Fi and GPS. "EOS Remote" is an app available for Apple or Android smartphones. With it and built-in Wi-Fi, you can quickly check still images in your camera with your smartphone. You can also transfer them to a computer, the Internet or a smart phone, but unfortunately you cannot transfer Mov movie files via Wi-Fi. The GPS unit can embed location data into every still image. It includes a logging function that can keep track of where you've been through the day. Travel, news or legal photographers will probably find this feature useful.
The specs on the Canon 6D are very similar to the Canon the 5D. The 6D has a new autofocus system that is better that the 5D's and looks to be more sensitive in low light. They've moved a few things around on the body. The white balance and flash compensation are no longer on the top. They are now accessible in the Quick Control screen.
The new Canon CMOS sensor is 20.2mp, 14-bit. Sensitivity is 100 – ISO 25600/102,400 (expanded). Unlike the other Canon DSLRs, the viewfinder only covers 97%. The video is H.264 QuickTime MOV, 1080/30p/ 25p/24p; 720/60p/50p. At 3.0 inches, the LCD is a hair smaller than than the 5D.
Apps allow you to control the camera direct from your smartphone. This could be helpful when filming in dangerous situations or perhaps with time lapse. Is the next step a DSLR with built-in smartphone?
Because the layout is a bit different from other Canon DSLRs this one is unlikely to be chosen as a second camera for video shooters.