By Anthony Burokas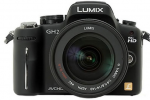 vDSLRs have been quite the rage for several years now and they offer two unique qualities that have not been available to lower end videographers before- "filmic" shallow depth of field (DoF), and a more affordable price compared to mid-range prosumer gear, around $4-5,000. A lot of people jumped on the vDSLR bandwagon around the 2012 New Year, when the venerable Panasonic Lumix GH2 dropped from nearly $2000 when it first hit the market, to a year-end sale price of $999 with a 14-140mm kit lens. The Canon 5DmII even dropped from it's initial lofty highs to under $2000 for the body, each causing holdouts to plunk down some cash to join the vDSLR craze. But is it worth it?
As a long-time camcorder user, I arrived to the vDSLR fray well after the "bleeding edge." I looked in from afar, in aghast, at the many things vDSLRs did wrong with video. At the same time, I looked at countless videos shot with DSLRs and was constantly impressed how such cameras could be wielded, seemingly against their nature, to produce stellar imagery. They often used the DSLR's very shallow DoF to mask the aliasing, moire and other artifacts. There's now software to correct for rolling shutter and flash banding. Plus, the user can operate it in a way to minimize exposure to situations that make those artifacts visible. In essence, treat it like a film camera, not a video camera.
A video camera enables what many call "run-n-gun" portable production possible. Pull it out of the bag and in less than 5 seconds, you can zoom in and be getting your shot. You can velcro wireless mics to the camcorder. The camcorder's LCD screen and viewfinder offers not only the ability to get critical focus easily, but it enables audio monitoring for both channels, video scopes, focus assist & peaking, and more. For the most part, vDSLRs offer none of this.
Nevertheless, the worldwide craze was on and many former ordinary camera operators rode the vDSLR wave to super high popularity. People you never heard of before were suddenly in the forefront and "experts" giving lectures on what they, themselves, recently figured out. Now, that the initial wave has died down, and the second wave – with large sensor camcorders – has flowed over us, the world is calmer, saner, and more observant of how vDSLRs truly compare to camcorders.
They offer the same "filmic" shallow DoF that they offered from the beginning. Now the large sensor camcorders and some vDSLRs (like the GH2) mitigate the moire and aliasing with in-camera processing.
Camcorders, on the other hand, still offer those same "usability" features that help you get the job done. To get a vDSLR with those features, you typically have to add copious accessories to get better audio, or record audio separately. Use an external monitor with peaking & zoom (and hope the HDMI out is accurate). For stability, the way to "rig up" your vDSLR is endless.
You can easily surpass the cost of a very good prosumer camcorder with all the accessories you need to equate the same features on a vDSLR. Plus, then, you have assembly, tear down, and as they always say- the more complex something is, the more points of failure you have.
But the current cost of large sensor camcorders is a whole level above good prosumer camcorders. Â So if the shallow DoF will make a distinct difference in how your footage enables you to tell your story, then a vDSLR is a unique, and necessary tool. It will have a return on investment (ROI). If that one feature alone is not critical to your work, then my suggestion is to stick with the camcorder and continue using it to make money.
Time is money and the time you spend actually producing sellable video is the most valuable part of your job.

Anthony Burokas is a 20+ year broadcast TV video producer currently based in Dallas TX. He has produced an extensive body of event, corporate, special interest, and broadcast TV. His web site is

IEBA.com