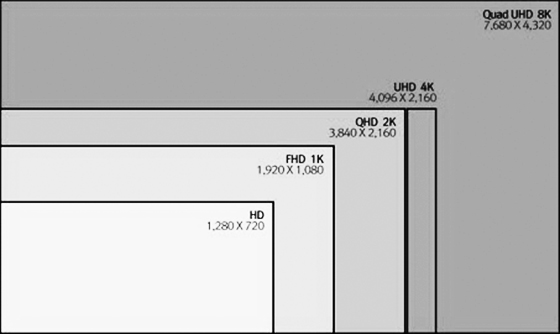 We've come a long way from the first handheld 8K video camcorder. But now Sharp has an 8K Video camcorder – The Sharp 8C-B60A. This 8K camcorder will likely be used at the 2020 Tokyo Olympics. This camera is $77,000.
And to view the 8K video Sharp has a new 70-inch 8K television scheduled to ship later this year. Prices in Europe range from $7,000 – $14,000.
The camera, the Sharp 8C-B60A, comes with a Super 35mm sensor that's approximately the same size as the one on the Red Helium Weapon 8K and is capable of recording 10-bit 60 fps 8K video. Grass Valley's HQX codec helps keep the file sizes at a manageable level but the camera comes with a custom 2TB SSD pack that was developed in collaboration with Astrodesign and can hold approximately 40 minutes of 8K video.
For about $2,000, Panasonic's GH5 can deliver 4K 10-bit video. But it will be a few years before there's an similarly priced 8K version. The cheapest 8K camera from RED is their EPIC-W at $29,500 body only. It can only run at 30 fps in 8K in RED's own raw format rather that ProRes or DNxHR. The required accessories are about $40,000. But considering that smartphones today can shoot 4K, Moore's law may give us better, cheaper chips and 8K video sooner than later.
8K Video Editing Computer And Storage
The iMac Pro can handle 8K footage using Final Cut Pro X 10.4. $6000 – $7000. Alternately, you could edit lower res proxy files of your 8K footage. You could probably build a PC that can handle 8K video for about $4000.
An hour of 8K video from a RED EPIC-W will require about 500 GBs and this assumes a 9:1 compression ratio on the raw footage. So you'd need a 2 TB hard drive for every production day.
For backup you will want to go to tape. A tape drive runs about $3600. 20 LTO-6 tapes will provide 50 TB of storage for about $500.
Lenses
Moving from 1080p to 4K and now 8K, is like moving from 2 megapixels to 9 megapixels and now 33 megapixels. So a great HD lens will not look so great in 8K video. The lenses will cost more.
To buy the cheapest RED camera, a new editing computer, and storage, you're going to spend about $45,000. But you can rent an 8K camera package for less than $2500/week from various rental houses such as borrowlenses.com, lensrentals.com, and others. Lenses and other accessories are extra.