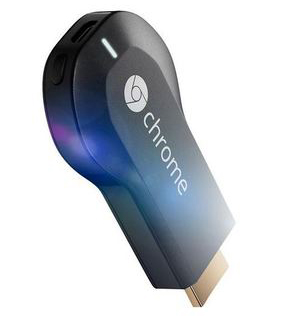 Google's new tiny digital video Internet receiver is called Chromecast HDMI Streaming Media Player
It's the size of a thumb drive. Just plug it into your HDMI input on your HDTV, connect it to WiFi and use your Apple or Win smartphones, tablets or laptops to show videos or music on the big screen. For now, it can play content from Google Play, YouTube, Netflix and Google Music. Pandora and others are coming soon. Chromecast automatically updates to work with a growing number of apps. The nearest competitor is Apple TV which costs $100!
Chromecast is $35 and requires no subscription! It comes with 3 free months of Netflix.
There's No Remote
Control the playback, and volume using your device. There's no remote to learn. It's easy.
It looks like Google has a winner with this new product. This video shows how it works
Keep Reading...