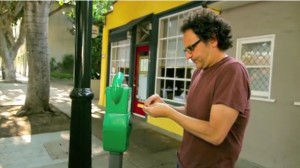 An example of a Poptent video for Paypal
that was purchased for $7500.
Poptent is a crowdsource exchange that connects producers with advertisers. The arrangement produces thousands of commercial videos each year for clients which include numerous Fortune 500 brands and agencies.
One of the Superbowl XLVI ads was produced by a poptent producer. Thirty-five of Poptent's top producers were invited to submit their creative vision for Dannon OIKOS yogurt featuring John Stamos and positioning OIKOS as "Possibly the best yogurt in the world." One production was chosen and the producer paid.
How It Works
Advertisers, agencies or brands post a "Creative Brief" explaining the video assignment and what they are willing to pay. The producer works on spec and takes most of the risk when they produce a video in a contest arrangement. The payment for these videos tends to be $7,500 to $10,000. The client guarantees they will purchase a video(s) from at least one of the producers. There are also cash awards for videos which are not purchased.
There are open assignments and invite assignments. Invite is for a smaller group of experienced producers.
The Open Assignments
Poptent works with the brand to help shape the creative brief in a way that will best speak to the community and attract on-point, quality submissions.
The brand provides electronic assets to assist in the creation of the videos (logos, pictures, music, styles guides, etc.).
Poptent creates a custom landing page for the assignment, where creators can read the creative brief, download the assets, and ask questions.
Then producers have 30 "" 45 days to produce their videos and upload them. The brand selects which videos they wish to purchase for use.
Jared Cicon who hosts http://videocontestking.wordpress.com ,a site for video contests talks about his experiences with Poptent, "In 2011, I submitted 8 commercial projects to 8 assignments on the poptent.net website. Half of my submissions were purchased by the brand. This year, I have so far produced 4 commercials for different assignments whose conclusions elapsed. I won (sold) only one of the four submissions, and lost three. Six weeks of production work (four commercials) for a gross payment of $7,500.00. Amortized, I was paid (gross) only about $1,850.00 apiece for the each of the four submissions."