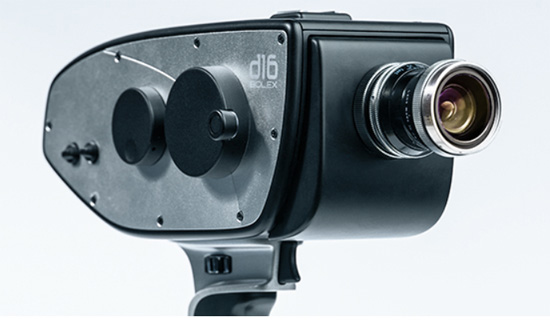 The Digital Bolex D16 cinema camera was originally funded on Kickstarter as we reported back in 2012.It is shipping now. This 2k camera makes cinematic quality video and the prices start at $3000. This beautifully shot promo shows off what the D16 can do. https://vimeo.com/digitalbolex/cinemaquality.
That was projected on the big screen at the Downtown Independent in Los Angeles to show the cast footage that was shot the previous day on set. Like its film namesake the Digital Bolex has a C-Mount lens port. It accepts a wide variety C-Mount lenses, both vintage and modern.
The Digital Bolex D16 has a Super 16 CCD Sensor with Global Shutter (which prevents the jello-cam effect on fast moving subjects or when panning.). This color sensor has 12 Stops of Dynamic Range. It can capture 2048 x 1152 (Super 16mm mode) or 1920 x 1080 pixels (16mm mode), Color depth 12 bit 4:4:4, 12-Bit Adobe Cinema DNG (RAW)
The Super 16mm-sized CCD sensor processes images differently from CMOS sensors. Onboard storage options include 256GB, 512GB, or 1TB Hard Drive for up to 3 hours recording time in 2K or 4 hours in 1080. The camera starts at $3000 without lenses. Bolex prime lenses start at $350. The Digital Bolex is available now. For more information visit Digital Bolex.
Keep Reading...