By: Anthony Burokas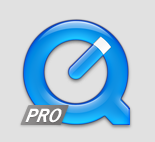 One of the "givens" that Final Cut Pro users take for granted is the incredible capability of QuickTime Player Pro. Not only can this "player" record video in SD and HD from external and internal cameras, but it makes many repetitive video tasks extremely quick. Ditching Final Cut Studio in a clean sweep can remove the "Pro" features from QuickTime Player. Here's how to get them back.
When I decided to make the move away from Final Cut Studio (and Final Cut Pro) I also took that time to completely upgrade my existing laptop with a Solid State Disk (SSD) and perform a clean install of the OS (from an optical disk no less!) and a clean install of Adobe Creative Suite 5. (CS5). Everything became quite snappy on this "new" laptop and I quickly became busy learning the ropes in Premiere. I upgraded an existing machine, but this also applies if you are making the jump to a new machine.
But, of course, I still have clients who need existing projects worked on, updated, tweaked, etc. For one client, I was in the midst of putting their finished video on YouTube for rental. I needed to grab 30 seconds of this video from the finished, stand-alone, rendered movie and make a new clip which I would upload separately and then link it as the preview file for the rental.
I went to my default tool, QuickTime Player and was flumoxed by the fact that I couldn't set an in and out point to copy a portion of the clip. And then I realized what the problem was: the "Pro" part of QuickTime Player requires a separate $20 purchase from Apple to be activated. Using FCP for over 10 years meant that I never needed to buy QuickTime Pro separately. But now, leaving FCP behind, those QuickTime Pro features were no longer available to me. I needed to find another way to make excerpts quickly.
In Premiere, I imported the source clip. Opened it in the viewer. Set my in and out points and couldn't figure out how to export the clip from the viewer. So I dragged the whole thing into the timeline and then cut it down. Time to export. I really just wanted to copy what I had into a new file. No transcoding or anything. Then, I faced Premiere's daunting Export module and was immediately flumoxed by the fact that I didn't see "use current settings" anywhere. It wanted me to either pick one of the presets or create a new setting from scratch. This was getting much more complicated than I wanted to deal with.
I wanted my QuickTime Player Pro back.
I asked fellow professionals for help, and of course I was told that Premiere can do anything, that Vegas could handle this. Edius has no problem… but most of them missed the point. I wanted something fast and simple. On a Mac, especially one now with a speedy SSD in it, QuickTime Player opens and plays a clip in under a second. Creating an excerpt takes just 7 keystrokes:
Double click the file, click spacebar to play,
Type "i", type "o", Copy, New, Paste, Save, type a name, Enter
Wait a moment, then Quit.

QuickTime Player defaults to saving the file as a "self-contained movie." Doing this copies only the data between the In and Out points of your source movie into a new file. In the Finder, it literally does just COPY the footage from one file to the other. No transcoding. No export settings. It's nearly as simple as selecting "Duplicate" in the Finder, except QuickTime Player Pro enables me to pick what portion of the source file to duplicate. This is why QuickTime Player Pro had become essential to an expedient workflow on my computer.
But how do I get QuickTime Pro back?
The answer lies in the registration file for Final Cut Studio that QuickTime Player checks to activate the Pro features of the app. This registration is nestled on the hard drive in a logical place, and just needs to be copied from the old hard drive to the same place on the new one.
Starting from the root level of the drive > Library > Application Support > ProApps Look for the "Final Cut Studio System ID." That's what you need to copy. On your new hard drive, go to the same place, and create the ProApps folder if you need to. Drag "Final Cut Studio System ID" from the old ProApps folder to the new one. Done.
The next time you launch QuickTime Player, you'll have full access to every feature it has.
Don't be confused by the Final Cut Express files I have in my new ProApps folder. I have a client who requires that we swap project files back and forth so I am still using Final Cut Express for them. But installing Final Cut Express actually does NOT enable QuickTime Pro. So, I still needed to install QuickTime Pro separately.
If you aren't cleaning out your System and Library folders, or using an application to remove all vestiges of Final Cut Studio (which spreads itself out into many different locations) then you probably will end up keeping the ProApps folder and QuickTime Player will continue to see your registration. But should you ever need to upgrade your hard drive, or move to a new Mac, and you're not going to reinstall the old Final Cut Studio… you'll want that one little file to keep the QuickTime Pro you've become accustomed to using.
.
Anthony Burokas is a 20+ year broadcast TV video producer currently based in Dallas TX. He has produced an extensive body of event, corporate, special interest, and broadcast TV. His web site is

IEBA.com
Follow @IEBAcom on Twitter