* FPV is First Person View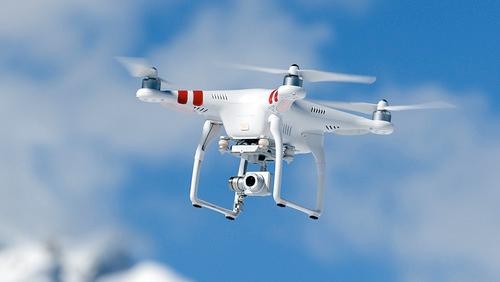 This fun-to-fly helicopter can fly at 35 mph and as high as 900 feet. Includes an HD camera for 1080p video as well as photos, but what really makes the difference is the 3-axis gimbal stabilization of the camera and lens which makes it easy to shoot smooth video. Considering the speed and altitude this thing has, you'll want to take it slow and learn in a big open space so you don't hurt anyone or wreck your new machine. It is tough. One of the users hit a tree on his first flight and watched it fall over 30 feet to the ground with no damage.
The GPS is great because if it flies beyond your control area, it will start down to where it last had contact. There's also a return home function in case the remote battery dies. The GPS also helps if you let go of the controls. The quadcopter will stay pretty much in one place until you take the controls again. It comes with it's own camera, but if you already have your own GoPro or similar, you can save $500.
Control is via Android or iOS smart phone. It creates a local Wi-Fi network you pair with your phone. The Phantom 2 Vision+ uses its own rechargeable internal battery power to stay connected with the Phantom even when it's 2,000 feet away. The DJI app allows you to see what the camera sees, start/stop video, take stills, tilt the camera , adjust camera settings, and see flight data, like altitude, speed, distance, and battery strength.
Crystal clear stills and live streaming video from the redesigned HD video camera with built-in FPV link
Extra-long flight times of up to 25 minutes from the intelligent 5,200-mAh battery
More flight power and security from the high-efficiency self-tightening propellers
Advanced GPS-based navigation and programmable features you can set up via the built-in USB port
Check out the DJI Phantom 2 Vision+ Quadcopter with FPV HD Video Camera and 3-Axis Gimbal