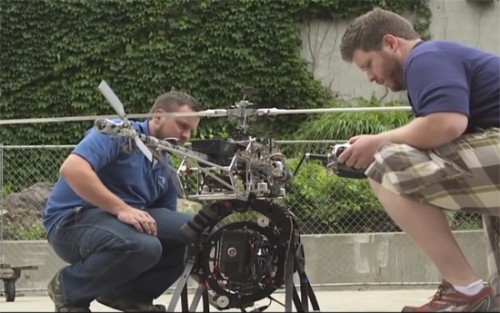 Click photo to see video.
The Federal Aviation Administration has permitted limited use of drones on movie and TV locations to seven aerial photo and video production companies. A certificate of airworthiness is not required because the FAA has determined that drones do not threaten national security or those who use the national airspace such as passenger planes. Films like "Skyfall" and the Harry Potter movies have used aerial photography by drones, but they were filmed in countries that did not restrict their use.
The FAA requirements are:
That the production company give the FAA advance notice of drone use. The FAA can then inform and monitor air traffic control in that area.
That the drone is operated by a certified pilot.
That drones can be operated only within sight and only up to 400 feet.
That drones can be used only on closed sets with the minimum number of cast and crew.
Variety, the show business newspaper, speculates that movies and TV shows may have been chosen first because they film in very controlled environments and are scripted which may be somewhat safer than less controlled or unscripted films.
Some 50 applications for approval have been made to the FAA requesting permission to use drones in various activities such as precision agriculture, power line and pipeline inspection, and oil and gas flare stack inspection. Seven aerial video production companies applied for and were granted approvals. They include Astraeus Aerial, Aerial MOB, HeliVideo Productions, Pictorvision Inc., RC Pro Productions Consulting, Vortex Aerial and Snaproll Media. These companies' websites provide a fascinating look at this nascent industry.
The Rules have changed since this article was written.