I was cleaning my desk the other day and stumbled on some old film negatives that I had never printed. Since I had just written an article about Transferring Negatives and Transparencies, I wanted to scan these long lost negatives right away and see what I was missing. Many were B&W art shots of the Metropolitan Museum of Art on Fifth Avenue, New York City. But there was one intriguing 35mm color negative that had nearly been lost in the edges of my old roll-top desk. I blew the dust off and cleaned the negative.
I couldn't tell just what I had so I popped open the flatbed scanner and set the scanner to work. Here's what I found: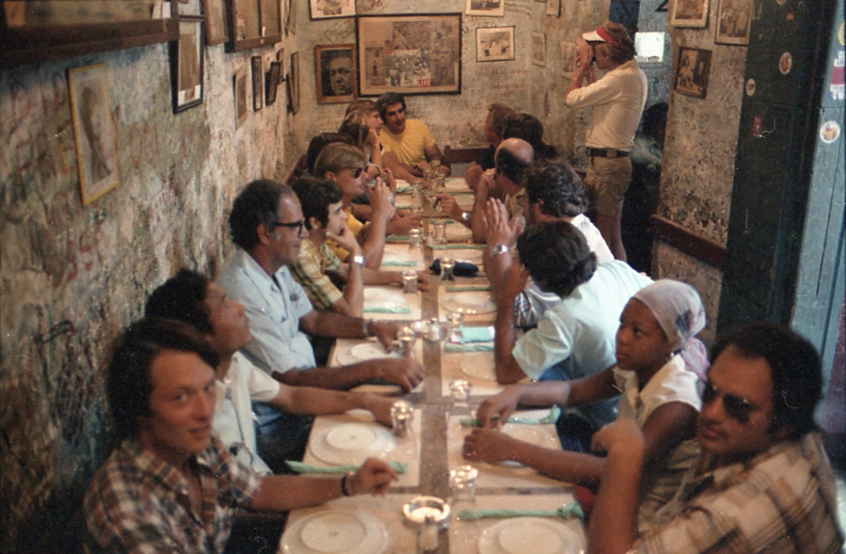 That's me, Hal Landen, on the left looking up at the camera. Alan Schneider is on the right in sunglasses. Five down on the left is Jan-Michael Vincent. Circa 1978-79
We were in Havana, Cuba filming a scuba dive on the Cayman Wall with actors Jan-Michael Vincent and Deborah Raffin for The American Sportsman.
As I recall this was a very deep dive which they took slowly going down and even more slowly coming up. I was not filming the underwater scenes, but topside. I took a scuba lesson in the swimming pool the day before, but that's all I knew about Scuba Diving. I do recall snorkling and diving down to where some of the divers were waiting. I was buddy breathing with their tanks so I could stay down longer. And then I started coming up. I could see the divers below frantically waving at me. I waved back not realizing they were trying to tell me to exhale as I ascended.
What a fool I was. I could have died from rising too quickly and not exhaling. Lesson learned – a one hour lesson in the pool is not enough. Cuba was fascinating and this was long before Americans could travel there. I think we had special journalist visas. The American cars from the 1940s that they kept running against all odds. Not to mention having Mojitos in Ernest Hemingway's favorite bar La Bodeguita del Medio. I seem to recall a tiny table and a dirt floor, but in any case the Mojitos were wonderous. I later learned that this may have been a publicity stunt dreamed up by the owner of the bar.
While some of the details of the trip may have faded or morphed, for the last 40 years I have boasted of that night drinking numerous Mojitos in Hemingway's bar in Havana.
We later toured his house where you could see where he wrote and touch the actual typewriter he used.