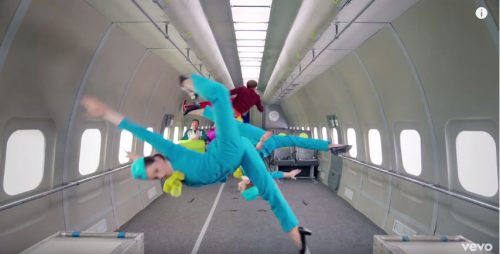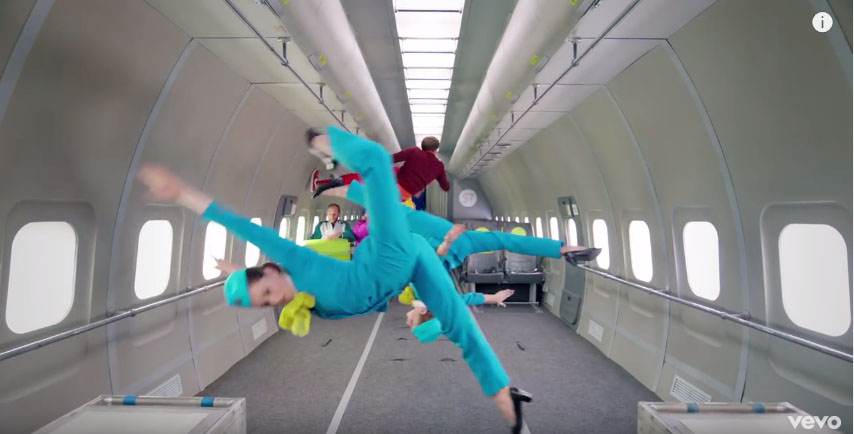 OK Go, the American Rock band, has another music video that pushes the boundary of physical possibility. This time they are filming in zero gravity. You saw them in our previous post called One Moment Music Video, but this time they're in a plane with zero gravity. They borrowed a Russian transport jet, and took a lot of motion-sickness medicine. The result is their music video Upside Down & Inside Out.
The band's guitarist and lead singer, Damian Kulash Jr. co-directed this video with his sister, Trish Sie, who is the choreographer and film director. Every shot was made in zero gravity as the transport jet flies parabolas. These are a series of waves including steep dives and climbs. At the top of the climb there's 30 seconds of weightlessness.
Filming in zero gravity in movies is sometimes done the same way with a 30 second shot of actual weightlessness created by a parabolic airplane flight. That's how they filmed the Tom Hanks film Apollo 13, but more typically movies use wires to suspend the actor. In some cases they film underwater which is what they did in the Sandra Bullock, George Clooney film Gravity. In Gravity the filmmakers also used computer generated animations created in a specially-built 20 foot light box.
Trish Sie said she and Damien went to Cape Canaveral and flew on NASA's version of the "Vomit Comet" back in November of 2012. "We were excited to have the zero-g experience, of course, but we also wanted to see if there was music video potential there. We were left pretty bummed out about the possibilities, to be honest. It felt so promising, and yet so insurmountable at the time."
Filming in Zero Gravity
For the OK Go film "Upside Down & Inside Out" there were 25-30 people on the plane, most of whom are not seen in the video. They made about 20 flights to get all the shots. It's not as much fun as it might seem. Damian Kulash says he thought that people got sick some 58 times.
The signature line of the song is, "Gravity's just a habit that you're pretty sure you can't break." One of the big challenges was choreographing the 30-second shots so they flow from one to another rather than simply making edits. The parabolas that are flown is an exacting mathematical formula that cannot be changed. The film had to be designed within the math of those flights.
While the music of OK Go is not easy to categorize, many call it alternative rock. OK Go is as famous for their videos as they are for their music.
See the behind-the-scenes video.