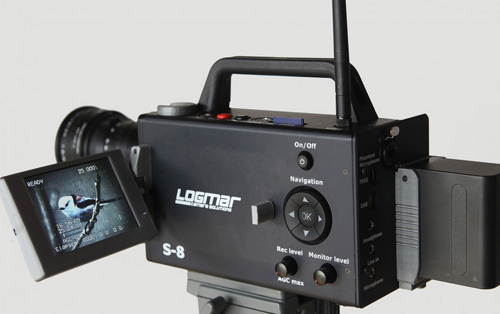 For decades Super 8 film has held a special place in the hearts of filmmakers. Many of us grew up with Super 8 home movies. The evocative feeling of these films has drawn many filmmakers to use Super 8 for a nostalgic or home movie look. Many feature films have used Super for special scenes. For example the Ben Afflick film "Argo" used Super 8 film to depict the scene of the US Embassy being overrun. The Super 8 film gives the scenes a realistic edge.
Feature films and hobbyists are not the only ones to use Super 8 vignettes. Top-of-the-line wedding videographers have used Super 8 in certain scenes to evoke a nostalgia look. Spike Lee directed his first Super 8 film while still in college and has used Super 8 vignettes in many of his 35mm feature films. Those of us in the film transfer business see what appears to be an endless supply of treasured home movies which we transfer to video.
But there's something new in the Super 8 field – a new Super 8 film camera that incorporates today's superior digital camera technology. It's called the Logmar S-8. While it uses standard Kodak film cartridges, it also records digital audio on an SD card which is synched to the film during filming.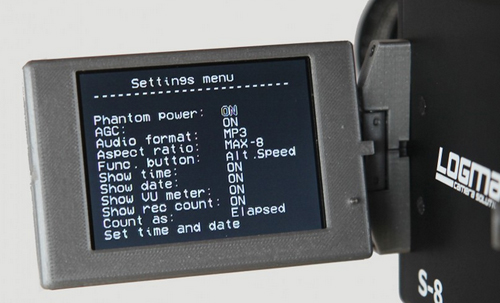 The camera uses one of the same DC powered motors that was used in the Mars Rover so it has a precise and variable running speed which ranges from 16fps to 54fps, including the NTSC standard 23.976fps. Like many 16mm and 35mm cameras this precise frame rate is achieved by using a crystal controlled motor. The original Super 8 cameras were all designed to run at 18 frames per second, but it was never precise.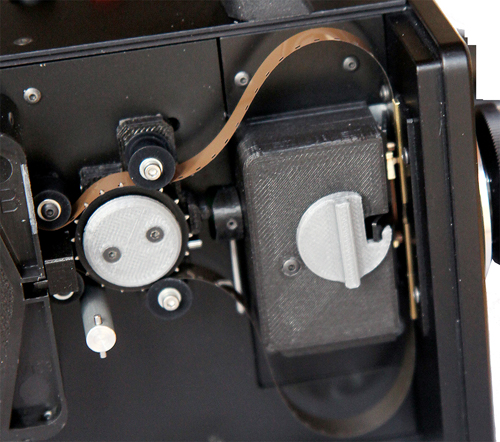 The mechanical pull-down claw in the older cameras was also very imprecise, occasionally causing film jams, but much worse was the movement of film in the gate called jitter and gate weave. The new camera features a wider gate machined in aluminum, with an integrated pressure plate and precise pin registration which eliminates the movement of film in the gate resulting in crystal clear frames. This wider frame is called Max 8 and is larger than the traditional Super 8 frame. Pin registration is a first for any Super 8 camera.
Lenses are C-mount. There are a great many fine C-mount lenses to choose from, including zoom lenses.
The lens mount us another feature that is was common in 16 and 35mm cameras. Other features include built-in light meter, the camera's own hotspot which is controllable with Android, iPhone and Windows Phone. Like video cameras, the flip out monitor is both viewfinder and status display. The Logmar S-8 camera features an XLR input and has a USB port. It uses 7.2V video camera batteries such as the Sony NP F970.
Pre orders are now being accepted by the U.S. distributor, Pro 8mm. The first 20 Logmar cameras will ship in December 2014, and are priced at $3,500 without lens. After the first production run sells out, the price jumps to $5,000 The Logmar S-8 is created by a father-son team from Denmark. The company website www.logmar.dk .
The camera was recently demonstrated in Burbank California and here's the video:
You can see how rock solid the registration is in this sample footage http://vimeo.com/peaceman/logmar-registration