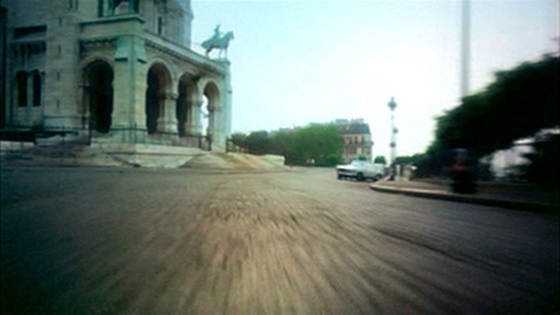 "C'était un rendez-vous" (Translation: It Was a Date) is a 1976 French short film directed by Claude Lelouch, showing a high-speed drive through Paris. The name was later shortened to "Rendez-vous." It was shot in a single take as an example of cinéma-vérité. The film runs for eight minutes which is nearly the maximum running time of a 1000 foot 35mm film magazine. The camera was mounted on the bumper of a Mercedes-Benz 450SEL 6.9.
In "C'était un rendez-vous," the car travels up to 85 mph through the streets of Paris. Lelouch used his own Mercedes for the filming and was widely criticized for the danger that the high-speed run created. Lelouch says he was prepared to stop filming in order to avoid hurting anyone. The sound track, however, is that of a Ferrari 275GTB. You can hear this car shifting into 5th gear while the Mercedes only has a three speed transmission.
Claude Lelouch
Lelouch was best-known for the 1966 film "A Man and a Woman." The famous song by the same name is a hypnotic song that was a big hit with more than 300 versions recorded. In 2006, Claude Lelouch was interviewed about "C'était un rendez vous." He retraced the route of the original film, at a somewhat slower pace. The short interview and drive is worth seeing at https://youtu.be/LDXFvtVlYcM.
Jay Leno, the former late-night TV host and car aficionado, says Rendezvous is one of his favorite films. He recreates his own version of the film on Mulholland in Los Angeles. See it here https://youtu.be/qYbDfWlA-PM. As Leno says this famous road became the setting for many high speed car runs with Steve McQueen and James Coburn and most of the Hollywood movies involving high speed cars were shot on this road.
The Ford Motor Company recently released a remake of "C'était un rendez-vous" in association with Claude Lelouch. It is called "Re-Rendez-vous." The new film is 360 degree view using a Ford Mustang. It includes several scenes that had been cut from the original 1976 version. But it does show most of the original route of Lelouch's 1976 version.
The link to the "Re-Rendez-vous" video was briefly on YouTube and Facebook, then it became unavailable. Now it has disappeared. If you find it, please include it in a comment below. Thanks!