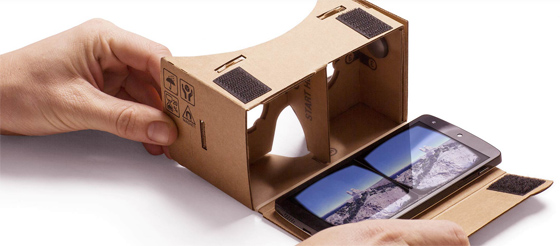 Reactions from people who viewed Google Virtual Reality
Virtual reality is about to change entertainment, information consumption, possibly the way we interact with the world. As Google says "Visit new places, play immersive games, fly through space and more." This Google Cardboard DIY Virtual Reality Headset is something you can build from cardboard. Add two cheap lenses, a magnet and your smart phone and you have a virtual reality headset for peanuts. The free Cardboard app from Google has already been installed on at least one million Android smartphones.
The app includes demos such as:
• Earth: Fly where your fancy takes you on Google Earth.
• Tour Guide: Visit Versailles with a local guide.
• YouTube: Watch popular YouTube videos on a massive screen.
• Exhibit: Examine cultural artifacts from every angle.
• Photo Sphere: Look around the photo spheres you've captured.
• Windy Day: Follow the story (and the hat) in this interactive animated short from Spotlight Stories.
Google Inc. wants Android to be the operating system for virtual reality. They are working on a new secret version of Android that might well power the next wave of major gadgets. Their new VR version of Android would be freely distributed just like Android is for smartphones, tablets, and wearables.
The race is on. Some of the companies which are developing VR products include: Facebook which recently purchased Oculus VR for $2 billion, Samsung, Microsoft's amazing Holographic Goggles, HTC and Sony which has Morpheus for the PS4 which they recently previewed.
Virtual reality is about to change our world in a big way. This goes way beyond games and entertainment. Engineers could make repairs remotely. Manufacturers could produce products outside their own factory, controlling machines remotely while seeing the objects in front of them. And surgeons could perform surgery remotely. Colleges could provide a remote immersive experience. Imagine what kind of video you could produce. 4K video would seem like black and white Standard Definition.