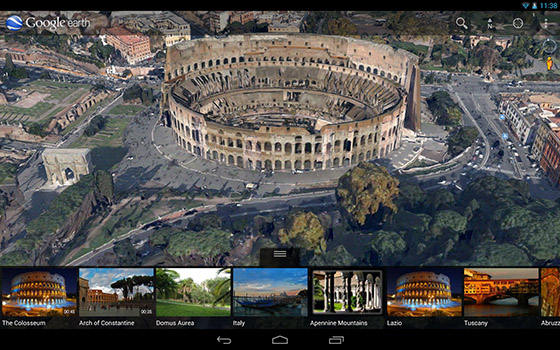 Before you check out the new Google Earth, make sure you are first running Google Chrome on your desktop or Android on your phone. iOS will be available soon.
Last year Google released a VR version of Google Earth. This new version is no longer a separate app, but a web site https://www.google.com/earth/ . This makes it easier to share a digital view and that will spread its use commercially. The massive update now includes 3D maps for places like the Grand Canyon, Prague, and the Palace of Versailles. Now you can explore these place in much greater detail.
Another feature is called "Voyager." It was created for "some of the world's leading storytellers, scientists and nonprofits,"
The tours are interactive expert-guided tours with videos and slideshows. There are 50 so far including Remote Islands, Renowned Bridges, and explorations of popular tourist destinations like Machu Pichu. There are also some "Natural Treasure" tours led by BBC Earth. You can choose from a variety of locations including mountains and jungles, and learn about the wildlife. There's also a guided tour of the chimps in Tanzanian Gombe National Park from Jane Goodall.
Sesame Street has a Girl Muppets Around the World tour. And NASA is also working with Google Earth.
Google Earth will integrate well with some of Google's other products, especially the travel-related products, like its personalized travel planner, Google Trips, Google Destinations, or its airfare booking tool, Google Flights.
If you want to record a tour here are the instructions according to Google Earth. These should work for any version from Google Earth 5 and up.
To Record a Google Earth Tour
Open Google Earth.
Click Add and then Tour, or, in the bar above the globe, click Record .
To start recording, go to the lower left corner in the media player and click Record/Stop .
To record audio, click Microphone and then Record/Stop .
Navigate to each place you want to visit or go to the left-hand panel under "Places" and click a placemark to fly to that location.
When you finish recording, click Record/Stop .
In the lower right corner, a media player will appear and your tour will start playing.
To save the tour, in the media player, click Save .
In the box that opens, enter a title in the "Name" field.
To add more info about the tour, use the Description and View tabs.
Click OK.
To play the tour: Go to the left-hand panel under "Places" and then "My Places." Then, click the tour you want to watch.
If you sell business video services, consider offering Google Earth Tours to your clients.