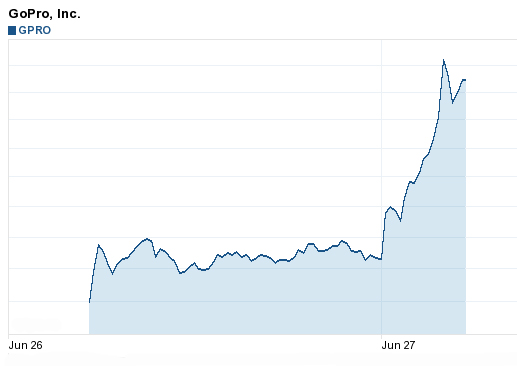 More Than A Camera
This company, which makes the camera we videographers love, just made the largest initial public offering of a consumer electronics company in more than 20 years! On the first day of trading the new stock (GPRO) jumped up more than 30%. The only other consumer electronic company to go public was Skullcandy's $189 million IPO and that was back in 2011. One big reason there's so little action in this area is that smartphones are such powerful devices. They are a GPS navigation system, digital assistant, great still and video camera, unlimited music machine, telephone and lots more.
One of the predecessors of the GoPro was the Flip Camera, but the smart phone was too much competition for it. What makes the GoPro different is that it's not just a camera, it's an experience. The camera is often worn on a helmet or vest and becomes part of the experience of jumping, driving, flying, diving, and more. It's both a status symbol and a lifestyle.
They are ubiquitous. When I recently walked into a West Marine store to shop for boating supplies, I ran right into a GoPro display which was playing extreme sailing videos. You will find such displays in many sporting goods stores. GoPro is aiming to become a media company. They are planning a GoPro Channel on Xbox Live. And they've just made a deal with Virgin America to license GoPro videos for in-air entertainment. The company already has a very popular YouTube Channel that certainly looks like it is profitable.
(Note: Stock prices of IPOs can drop just as quickly as they rise.)