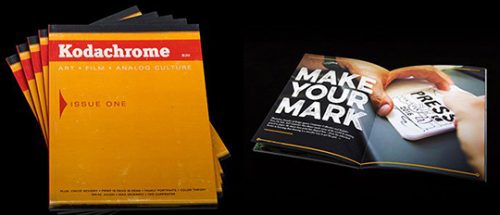 "Kodachrome" is a limited edition magazine geared toward people who love "art, film and analog culture." It goes beyond the world of analog photography and filmmaking. Kodak says it also about film, writing, sculpture, music, graphics. It is about art and analog culture. Issue 01 is being published in a "limited edition run" with 76 pages.
Some of the articles in issue 01:
Max McSimov on the beautiful truth behind folk songs – with his Super 8
Lost in Color: why the light, bright world of yellow is a lot murkier than it seems
Isaac Julien on the virtue of film for inspiring, making and preserving art
The first issue is $20. I'm not usre it is still available because in one place on their site, it is out of stock. For more information go to the Kodak store.
As part of my transfer business, I just bought a Kodak Hi Speed Photo Scanner and have already scanned over 5000 photos from customers. Surprisingly, this scanner is not listed in the Kodakstore above. It is only available from one value-added reseller. I'll be writing a review of this scanner soon. Drop me a line if you have questions.