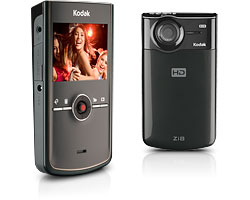 The new Kodak Zi8 Pocket Video Camera can capture up to 1080p HD resolution. It has an SD card slot and a removable, rechargeable battery. You get composite and HDMI cables, but you don't need the cables, just swing out the USB arm. It even has stabilization which is very helpful in these pocket cameras. The picture looks very good in low light and it takes 5 megapixel stills.
The bundled software is not Mac compatible. The MSRP price of $179 does not include a optional memory card which holds 32 GB for 10 hours of videos. For more information see
http://www.kodak.com/eknec/PageQuerier.jhtml?pq-path=15340&pq-locale=en_US
Keep Reading...