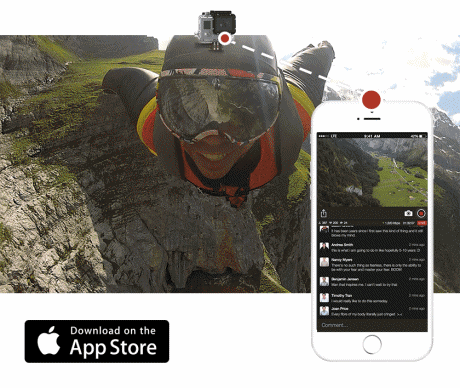 Livestream is a live streaming video platform that allows users to view and broadcast videos using a camera and a website. The company has a free iOS app which they have improved so it can use a GoPro to let you stream GoPro footage live. The iPhone app links the phone to your GoPro's WiFi network. It's easy. Just press a button on the phone and your GoPro is live-streaming. Now you are broadcasting from your GoPro. It requires a 4G cell phone connection. The good news is that the four major carriers are continually competing to expand their 4G coverage. Check your carrier's 4G map.
The free Livestream app works with all older versions of GoPro cameras which are equipped with WiFi. They are working on making it compatible with the new GoPro 4. Using a GoPro's WiFi network, the camera streams live video to the connected iPhone, which then broadcasts the video stream to Livestream's service. This is the way all Livestream applications work. Using the Livestream web site has several plan levels. The free version has no ads, offers unlimited viewers and storage, on-demand embedding, 30 day event archive, but it requires viewers to log in. The pay versions do not require viewers to log in and offer additional amenities.
Livestream is both a virtual television studio and a video player that can be embedded in a web page. Livestream also offers wireless HD broadcasting using their Livepack device which they describe as "a satellite television truck in a backpack."
Keep Reading...