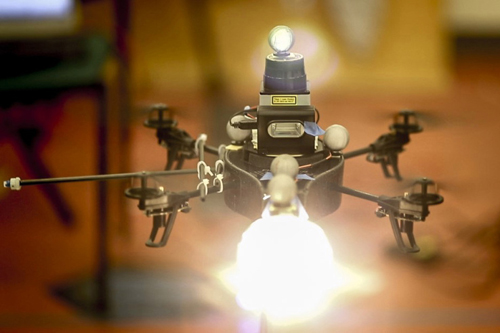 Some MTI geeks have come up with something I never expected to see – a drone rim light. This light does not require a light stand; it flies! The light is held by a quadcopter and moves automatically to provide the percentage of edge or rim light the photographer specifies. If the subject moves, so does the light. Likewise if the photographer moves, so does the light. The photographer chooses the width of the light by choosing a percentage. The drone does it all automatically. This could have easily been a fill light, back light or another. In fact the inventors envision a whole fleet of drone lights.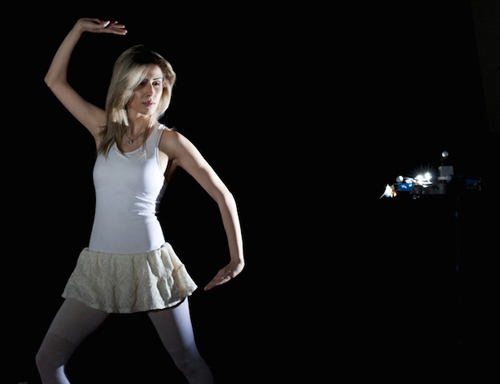 The airborne demonstration is set to debut next month at the Symposium on Computational Aesthetics in Graphics, Visualization and Imaging. We'll post a video as soon as possible. But before gaffers and lighting directors start worrying about their jobs, I see a few minor problems.
Danger. Do you really want 4 spinning blades so close to a person's eyes? Most rim lights I've set up are ten or twelve feet from the person's face. Your video production insurance is bound to rise.
Expense. Would you really rather spend a couple thousand dollars on this as opposed to $50 for a Lowel light stand? I'd rather hire an assistant and say "move the light back a foot."
Noise. Would you want the noise of 4 spinning fan blades in your studio during a shoot? This would make it harder to communicate, ruin the audio track if you're recording sound, and spoil the intimacy the photographer tries to establish with an actor, client or model.
Light Control. How do you scrim or flag this light? I guess you'd need another drone with a combination scrim, flag and colored gel arm. That's gonna add a couple more thousand!
Sorry, but the Jetsons had better ideas.