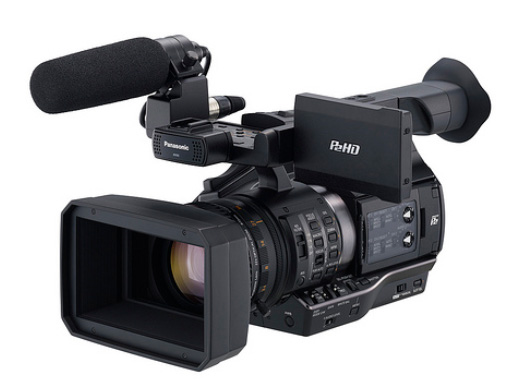 Panasonic's handheld AJ-PX270 camcorder records 10-bit, 4:2:2 video using a new codec based on its AVC-Ultra recording format. The new camcorder has 1/3-inch 3MOS sensors and a 22x optical zoom lens with separate zoom, focus and iris rings. Video recording is to microP2 cards (list prices: 32GB microP2 card: $250, 64GB microP2 card: $380). The camera can record video to two cards at once.
While these cards sound expensive, the P2 cards are even more expensive and larger. Cards are recorded in sequence, and when a card is full, it can be swapped out while another card is recording. This limits recording time only by power supply and the available number of cards. If a card is partially full, the deck will record only until it is full. Unlike video tape, old video cannot be recorded over accidentally; old footage must be manually deleted.
The AJ-PX270 has a USB port for a wireless LAN or cellular data dongle, with an upgrade to allow uplinking of footage via 3G or 4G to be released shortly. The uplink port allows video crews to send both proxy and broadcast-ready files.
For onboard recording, the AJ-PX270 supports both AVC-Intra100 and AVC-LongG, which can record as much as four times as much footage as AVC-Intra. The camcorder is expected to be available in Spring 2014. Pricing has not yet been announced.