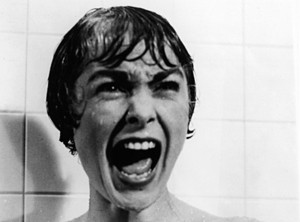 The classic Hitchcock film Psycho (1960) [DVD + Digital]
has spawned many imitators and set a high benchmark for scary films. The shower scene pictured above is an icon in the film universe, like Marilyn Monroe's wind-blown dress .
The A&E Network invites filmmakers to enter a Facebook contest to create the best 15-second opening title sequence for their new cable series called "Bates Motel." It's a contemporary prequel to "Psycho which offers "a contemporary exploration of the formative years of Norman Bates" as well as "his relationship with his mother, Norma, and the world they inhabit," according to A&E's news release.
It's not enough money for what they're asking. This is gonna take more than a couple hours. But it is a fun project to contemplate. If you do it as a piece for your reel, it may make sense to take a stab at the contest. Unfortunately, I don't make any money on this whether you enter or not so do what fits. Here's the link http://www.facebook.com/BatesMotelAETV . And here's a NY Times article about it.