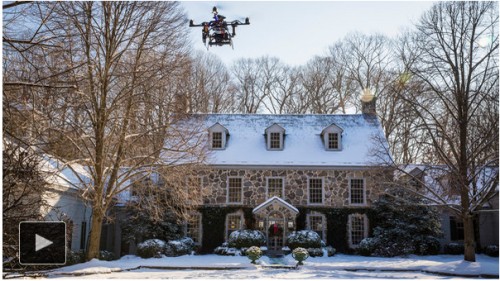 Click to See Video from The New York Times
Quadcopters, also called drones, have been working in the high-end real estate industry for several years ever since ready-to-fly models have become so popular and affordable.
Halstead Property is a real estate company specializing in exclusive real estate in New York, Connecticut and New Jersey. They have contracted videographer/pilots to do aerial video for over 200 exclusive homes in the tri-state area. The video above features quadcopter footage of a $7.6 million beach house in Darien, Conn. This video has been viewed more than 500,000 times.
As we point out in our previous article on the subject of quadcopter videography, the Federal Aviation Administration, does not sanction flying quadcopters outdoors for commercial purposes. See Quadcopters and The Law. Real estate agents and drone pilots say they fly the machines on private property and fly them below 400 feet, two requirements for flying non-commercial drone.
An F.A.A. spokesman said that those model airplane guidelines do not apply to commercial drones and that drone operators needed special approval from the agency. The spokesman added that no real estate agency had been granted permission. In the only such case publicly disclosed by the agency, it issued a $10,000 fine — the maximum for a violation — in 2012 to a man who was flying a drone around the University of Virginia campus; the man is appealing the fine. See FAA Takes First Legal Action Against Model Airplane Pilot.