Here's what you get:12 Pin Fujinon Zoom Adapter Cable for Sony EX1 or EX3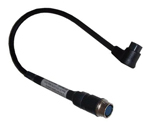 12 Pin Fujinon Zoom Adapter Cable for Sony EX1 or EX3
This 12 pin zoom cable adapter for Fujinon professional controllers with 12 pin male plug allow you to remotely control the zoom feature of your Sony EX1 or EX3. This adapter cable also supports the record start/stop and review features of these cameras if your controller is so equipped.
For 8 pin Fuji Zoom Adapter Cable, click here
For Canon 8 pin adapter, click here.
We want you to be completely happy with your purchase, check out our Money Back Guarantee & Return Policy.