Here's what you get:
1.DVD (region free)
2. Printed Booklet
A Complete Course on DVD and Printed Booklet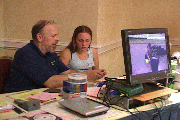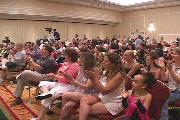 There must be an event video business that is better than weddings! Well there is.
Like many others, Bob Anderson started with weddings and events such as dance recitals. But he quickly learned that it was pretty unlikely he could make more than just a day's pay in those events. Through a lucky break, Bob was invited to shoot a much larger event, one with hundreds of competitors. He devised a way to give the contestants "Instant DVDs" minutes after the event ended. This was the beginning of a remarkable video event business. In fact his business was unlike any I had ever heard of. He can take in $20,000 in a weekend with little or no post-production!
There's some serious money in this kind of business. For instance, one organization sells $1 million of DVDs of their events every year. With that kind of money at stake, they keep it all in house and do the work themselves. Other organizations are happy to let smart entrepreneurs like Bob do all the work.
"I just watched and read "A More Profitable Video Business."Awesome Course!!!!
– G. Hawke"
In this new DVD we'll look at every aspect of this remarkable business: the equipment, the products he sells and the business strategy. Because some information is best in print, we have also put together a companion printed manual. Bob is happy to show others what he has learned.
All of his work is done on spec with no guarantee of any sales. Since Bob started this business, he has sold over 20,000 tapes and DVDs. He works these competitions usually every weekend from Jan through April.
Your Customers Love Instant DVDs
That's why they buy them on the spot. You'll learn how to find the right events, make a good deal with the promoter, put together the right equipment package, draw customers and make real money.
---
Learn how to think out of the box and choose the right kinds of events – those with great profit potential.
Important Note: More than many other video businesses, this one requires a definite technical aptitude for video equipment and processes. While we'll try to show you each of the technical aspects of Bob's methods, the equipment and technology is always changing in the video business so if you are unable to follow the changes in technology and take advantage of new developments, this business might not be well suited for you.
Learn from Bob how you can start and develop this business into a very profitable part-time gig. Discover the single factor that can make this business very profitable. Order this package and start today.
We want you to be completely happy with your purchase, check out our Money Back Guarantee & Return Policy.