Here's What You Get:
3-Pack Anti-Fog Cloths
in protective case
---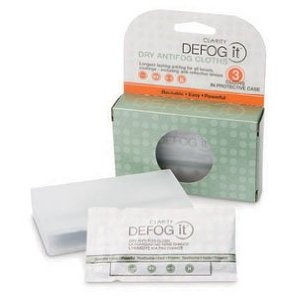 It's hot and muggy. You've almost completed the shots you need when the viewfinder fogs on you. Gently you pull your eye back from the finder and try to clear it with a tissue.
Has that ever happened to you?
Me too and it's a PITA to say the least. You can't afford to lose the shot. I struggled with this problem until I discovered a trick they use on feature films – a great little Anti-Fog cleaner called "DeFog It." Your first question is probably – is it safe to use on my expensive glass with its fine coatings? The answer is yes. It's absolutely safe to use on the finest lenses.
Used on Feature Films
"With Defog It, I can focus my attention on the project at hand, and not toward constantly cleaning my lenses and viewfinders in temperature-changing environments." Don Bensman.
One application lasts up to all day Safe and effective on all lens types and coatings, including anti-reflective lenses
Easy wipe-on application
Each cloth is good for 5 or more apllications
Includes carrying case to keep cloth clean and dry
In lab tests, no fog formed after 60 minutes over boiling water or a hundred cycles of heat-and-cold. (Don't try this at home!)
Perfect for digital cameras, DSLR cameras, camcorders, binoculars, and yes even eye glasses!
We want you to be completely happy with your purchase, check out our Money Back Guarantee & Return Policy.