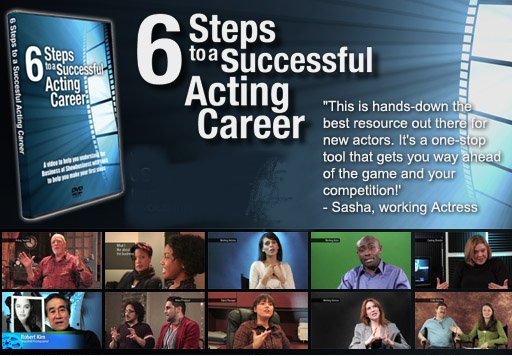 Here's what you get: The DVD
6 Steps to a Successful Acting Career
150 minutes
6 Steps to a Successful Acting Career
This DVD is for anyone who wants to become an actor, but doesn't know where to start. It contains everything an aspiring actor needs to know about how to enter the business and how to survive and create the career they want.
Produced by Aaron Seals, owner of NYCastings, one of the largest casting companies in the US, the DVD brings together working show business experts that discuss the acting business as a whole looking at topics such as: the first steps, the types of work, the types of skills you need, how to market yourself, the day to day lives of working actors, and the levels in a career and how to set goals.
The DVD is made up of six chapters, plus a chapter for kids and their parents, on the special aspects of childhood acting such as work permits and the Kid/Parent team which is a special relationship that needs recognition and nurturing.
The main topics covered are: First Steps, Types of work, Skills needed, Promotion, Day to day life of an actor, and the Levels and goals of a career.
Chapter 1 "" In the beginning "" This part of the working professional interview calls out what an aspiring actor needs to do to get started developing their craft and their career. It is pointed out that you should start early, and that it does not matter where you live. It is not necessary to live on either coast. Working professionals outline what is needed to get the necessary training.
Midwest Book Review
Written and directed by the founder of a New York casting company with a ten-year track record, 6 Steps to a Successful Acting Career lives up to its title and is an excellent from-the-ground-up primer for anyone interested in getting started as an actor. A special chapter focuses on issues particular to child actors and their parents, including work permits and the value of the kid/parent team. 6 Steps to a Successful Acting Career is an excellent pick for anyone curious to learn more about the acting world as well as aspiring actors seeking to break into the business.
Chapter 2 "" Types of Work "" People that are currently employed as actors or models detail where to look to find the opportunities. For example, New York is the place to be if you are passionate about being on the stage in front of a large audience. On the other hand, if you prefer film and television, LA is the place to be. But successful acting careers can start anywhere.
Chapter 3 "" Skills "" Recommendations regarding acting techniques and the "Business of Show Business" are provided. Different skill sets for different jobs. Stage acting is different than film acting. For example when you walk out on the stage in front of a live audience you don't get a retake like you might in a TV show or feature film so your preparation varies.
Chapter 4 "" Marketing "" Working professionals give tips on how to market and "sell" yourself within the industry and to the media.
Chapter 5 "" Day to Day "" Aspiring actors must realize that there is a process that takes place in order to be successful in show business. Certainly you hear about the one time wonders that hit it big the first time they try, but this is a fraction of the population. The vast majority of actors go through a long period of auditioning and gradually build an awareness about themselves.
Chapter 6 "" Do it Yourself and Climbing the Ladder "" Not all acting careers follow a smooth upward curve. There are times when things are slow, and the best way to work through these times is to "do it yourself". Seek professional help when needed and do what you can on your own to save money.
This is the fastest way to understand and get started in the acting business. While this program is directed toward those who aspire to be actors or in the entertainment business, it actually has a broader appeal. The lessons put forward here may apply to any career path. Establishing goal seeking behavior, constant improvement, diversity and a building a broad background bode well to enhance any career choice.
The writer/director of this film is Aaron Seals who is the founder and owner of NYCastings.com in New York City. His firm, NYCastings, has been one of the leading casting companies in the US for over ten years, placing actors in films such as: I Am Legend, War of the Worlds, Devil Wears Prada and TV shows such as: 30 Rock, Law & Order, Rescue Me & American Idol to name a few.
We want you to be completely happy with your purchase, check out our Money Back Guarantee & Return Policy.