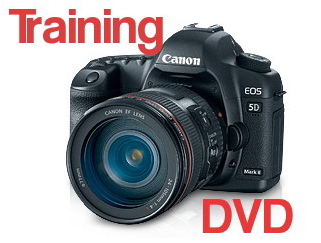 You will learn everything from the continuous shooting mode, to the shutter priority mode, preset modes, flash settings, import settings, white balance settings, memory settings, display and playback modes, focus modes, set up and custom menus, histogram, self timer, movie mode, narration over still mode and so much more.
If the Canon EOS 5D Mark II does it, you will learn about it in these DVDs. While the camera came with a manual, it's a long manual and a video where someone shows you what you need to understand is so much better. These videos will work on PAL machines as well as NTSC DVD Players.
from the review on http://www.blog.planet5d.com
The first disc starts with a "walk around" the camera so you know what all of the buttons and dials are designed to do. Watching this very first segment actually taught me something that I didn't even notice before "" All the blue buttons are for "playback mode." Wish I had known that earlier!
The first DVD contains chapters that cover these things:
* Walk around the camera
* Attaching a lens and setting the date/time
* The Menus
* Creative Auto
* The top LCD settings
* Live View and Live View autofocus
* Playback and playback options
DVD 2 contains:
* Continued menu coverage
* Continuous shooting mode
* Custom menus
* Self Timer
* Movie mode insights
* Some non-5D2 specific items
* Depth of field
* Aperture/shutter
* AE Lock
* What type of lens
* Bulb settings
One really nice feature that is really well done thru the DVD is the use of split screen to show you both the menus at the same time as showing which buttons are being used to make the changes demonstrated. This is very effective and they use it at all the appropriate times.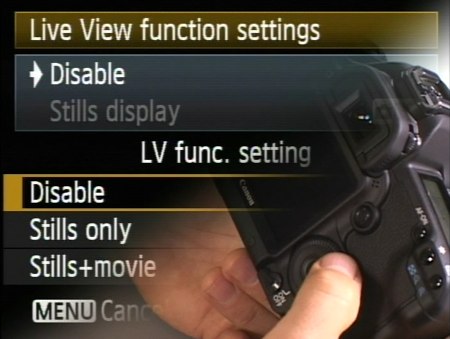 The coverage of the menus is very good. Especially if you haven't gotten thru each page of the manual. It is much nicer going thru the individual menus visually than trying to get thru the manual. I'm a visual guy (and I suspect most of you are too) and seeing the menus makes it easier to comprehend and easier to remember when it is time to use a function than trying to read through the manual. And it is also really good to be able to go over sections again if you need to stop and review.
So, the bottom line is that overall, even though I have a couple of nitpicks, this is a very well done training guide for both the beginner and the person who thinks that they don't need any additional help. It was well worth it for me to sit through both discs and I learned several things that I didn't already know about the 5D2. Someone new to the camera will learn a whole lot about the functions that they might not have been exposed to before. It can be very helpful for all levels.
We want you to be completely happy with your purchase, check out our Money Back Guarantee & Return Policy.