Here's What You Get:
Paperback: 557 pages
Clearance & Copyright, 4th Edition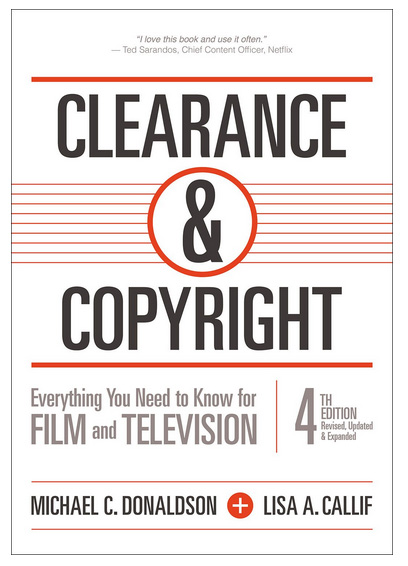 What Others Say About Copyright & Clearance
"You cannot show your film, even at many festivals, unless it is properly cleared from a legal point of view. This book has all the answers even to questions you haven't thought of yet."
—John Cooper, Festival Director, Sundance
"If you only buy one book to guide you through the various legal challenges facing you as a filmmaker, this is that book. With great clarity, it covers subjects that are simply not covered in any other book and answers questions you may not have even thought to ask."
—Josh Welsh, President of Film Independent
"While digital production and distribution have lowered the cost and complexity involved in getting your film to market, clearances and copyright issues have never been more complex. This book has never been more valuable and relevant. It is the bible for clearance professionals, creators and distributors."
—Ted Sarandos, Chief Content Officer, Netflix
"The business end of independent filmmaking is laid out clearly and concisely . . . The contract models are alone worth the price." — Hollywood Reporter
This book is the industry-standard book for every conceivable rights issue that filmmakers, videomakers, TV producers, and Internet content creators might encounter. It's an invaluable reference which will keep you out of trouble and let you focus on the creative aspects of video and filmmaking. Read it once and then keep it on the shelf for reference and you will be way ahead of the game. The book includes links to 25 downloadable contracts and 50 illustrative film clips.
Did You Know
Did you know that the famous documentary "Titicut Follies" by Frederic Wiseman was banned and that was the first time in the American film industry that a film was banned from general distribution. The film was banned because of a dispute about the releases Wiseman had obtained. The legal wrangling over this issue caused the film to finally be released to the public some 25 years later. The film influenced the closing of the Massachusetts mental institution featured in the film. And all the time Wiseman thought he had legal releases! Why take a chance with your film? Make sure you know the answers before any questions are asked.
Fair Use is a term many filmmakers use to justify their right to use part of a copyrighted work. And yet, the laws on fair use can be murky at best. This book will help you understand once and for all fair use and how you should employ it. When used properly, this can allow you to use many archival clips that would otherwise be risky to copy. Attorney Donaldson has successfully negotiated with Media Professional Insurance Company and Chubb Insurance Company to offer fair use riders on the E&O insurance policies, allowing many films to be made under the fair use doctrine. "Clearance and Copyright" has three different approaches for documentary filmmakers to consider about "fair use" material. Filmmakers need to examine and choose one of these approaches BEFORE they start shooting.
Owning this book is like having your own entertainment lawyer ready to answer every question you have, but without paying the the high fees. Understanding the copyright rules for film as well as clearances and other legal aspects will give your videos and films a much greater chance of success.
Editor's Note:I owned a previous edition of this book and refer to it often, but this new edition is so much better and more complete. I highly recommend this 4th edition.
Meet the authors: Michael C. Donaldson is an LA entertainment lawyer with more than 45 years of experience in copyright and entertainment issues. Lisa A. Callif was named by The Daily Journal as one of the Top 100 Women Lawyers in California (2014). Her primary focus is on representing independent filmmakers.
We want you to be completely happy with your purchase, check out our Money Back Guarantee & Return Policy.