Here's What You Get:
DVD ROM 9 hours
DJI Phantom Quadcopter Tutorials
DJI Phantom Quadcopter Tutorials Download

Price: $79.99
Here's What You Get:
Download 9 hours
DJI Phantom Quadcopter Tutorials
Download is in 2 parts, each is about 1.5 gig (about the size of a typical movie).
Plays on your computer, or you can transfer to mobile devices, just like a DVD ROM.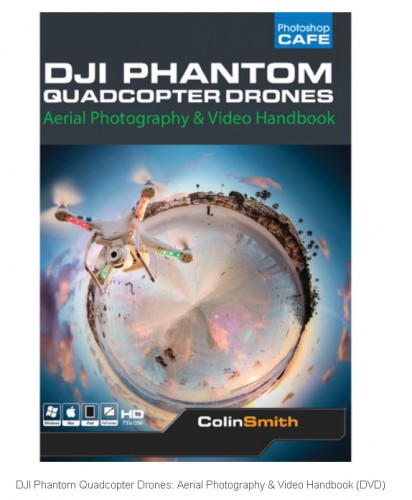 The DJI Phantom Drones are the most popular drones because these quadcopters are easy to fly and inexpensive. This has created an interesting video niche business. Now there is a comprehensive series of video tutorials. You'll learn everything you need to know to fly safely and precisely while shooting stunning video! You'll do exercises to master the basics. Flying well is the beginning of great-looking aerial video. And now it's within your grasp.
DJI Phantom Quadcopter Drones: Aerial Photography & Video Handbook is a DVD or download. The tutorials apply to the original Phantom, Phantom 2, Phantom 2 Vision, and Phantom 2 Vision+ models. Includes basic setup and operation, using advanced features like IOC, installation of a GoPro camera and gimbal, as well as professional aerial photography and video techniques. The DVD-ROM video can be played on a Windows or Mac OS X computer as well as select iOS devices, including the iPad and iPhone 4 and later.
The easy to use interface of these Quadcopter Tutorials allows you to instantly click on any lesson and completely control playback. This is the way instructional videos should be designed. Available as a fast loading DVD ROM with over 9 hours of HD video instruction or as a digital download.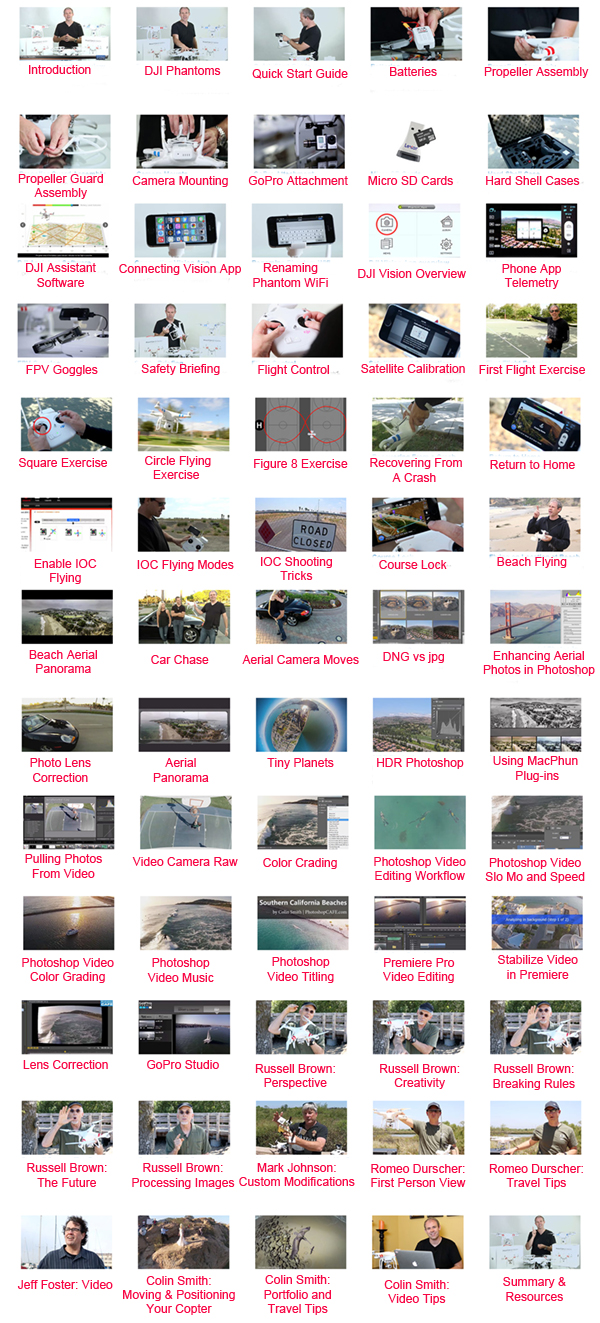 Some of the contents:
A look at all the DJI Phantom quadcopter models and their differences
Quick start guide gets you flying faster
Managing battery power
Safety briefing, very important information
How to attach and change propellers, both self-tightening and regular
How to mount prop guards and why you need them
How to attach camera platforms including the GoPro
Which Micro SD cards to get and the right way to install them
Hard-shell cases for transporting quadcopters
DJI assistant software, firmware and calibration
Connecting Vision App with a mobile device for FPV (First Person View)
Phantom Wifi
The free DJI Phone App (iOS and Android) and how to use it
Flying with telemetry, radar, shooting controls, panorama and HDR
Using the Epson Moverio see-through goggles
Understanding flight control and flying
Calibrating your quadcopter with satellites for stability and establishing the home base
Your first controlled flight with a basic exercise to get used to flying
Several flight exercises to get the feel for flying in straight lies and for basic copter orientation
Two circle exercises and a figure 8 exercise for practice
Advanced flying exercises to precisely control your copter and camera
Recovering from a crash. See how these copters are designed to take it and keep on flying
Using the return-to-home failsafe
Use the Intelligent Orientation Controls (IOC) for different ways to fly and shooting tricks
Attitude, GPS, Course Lock and Home Lock demonstrated
Tricks to get different types of shots
Fully Automated Robotic Flight
Beach flying, video, photos and a panorama
How to shoot a car chase and follow a moving object
Aerial cinematic camera moves simulating dolly and crane shots
DNG (raw) files vs. jpg
Getting started in Photoshop with aerial photographs. What most images need
How to correct lens distortion
How to create stunning aerial panoramas with your Phantom and Photoshop
Fun with panoramas to create tiny planets
How to make a true HDR with your aerial photos for better detail and dynamic range
Using MacPhun Plug-ins Intensify Pro and Tonality Pro for enhanced texture and detail
Use Camera Raw as a powerful video adjustment tool
Use Photoshop with video for slow motion and sped-up time, color grade, titles and export
Free GoPro studio software for enhancing and editing video
"Doc" Russell Brown, senior creative director at Adobe Systems, talks about creativity and breaking the rules as quadcopters change the photography and video industries
Mark Johnson, founder of a film company, shows you his crazy contraptions and modifications to make a unique and accessorized flying experience
Jeff Foster discusses shooting video with quadcopters
Colin Smith: video tips, moving and positioning your copter to get unique shots
Valuable resources.
We want you to be completely happy with your purchase, check out our Money Back Guarantee & Return Policy.