Here's what you get:
DVD "How To SetUp, Light, and Shoot Great Interviews"
---
Shoot Great Interviews
Using a Light Kit that Costs Under $1500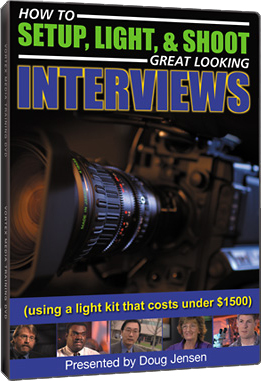 Great interview lighting is essential to any production, but it doesn't have to be expensive.
"What a WEALTH of fantastic information. I could NOT be happier. There is absolutely no doubt the quality of my future projects will prosper as a result of this DVD."
Lance Drake
Regardless of your budget or which camera you have, there's no excuse for not shooting interviews that look like they came from a network news magazine show. This DVD shows you how to shoot network quality interviews with an inexpensive light kit. You'll learn which light kit to buy and exactly how to use it, even if you have NO experience in lighting. You'll master all the fundamentals as well as advanced techniques for lighting a network quality interview – all with a basic light kit.
Interviews Are More Important To Money Making Videos Than Just About Any Type Of Scene
At least 95% of the time a video crew breaks out the light kit, it's to shoot an interview or some other kind of head shot. If you can plan, setup, and light nice looking interviews, that's just about all the lighting know-how most people will ever need.
Just look at the types of videos where interviews so important
"Between the DVD and the gear, this is definitely a great investment in our business and I know it will help us get bigger and better jobs.. I've had my own videography company for 8 years, and always thought good lighting was WAY over my head. But your DVD really made it so easy to understand. Thanks so much!" Laura Randall, Edit 1 Media
TV Network Magazine Shows e.g. 60 Minutes, 20/20, et al
Business Videos use interviews as testimonials, as well as expert information
Video Biographies – a great looking interview is one of the key techniques for producing $15,000 biographies
Settlement Videos – Intervews are 90% of these expensive videos used by attorneys
And those are just the beginning. Shooting interviews are the key element of so many kinds of videos.
Not so long ago people could get away with just putting up a couple of umbrella lights and calling it good. But, times have changed, and the standards for interview lighting have risen sharply in recent years. It doesn't matter whether you're shooting for a major network news magazine, a live shot, a documentary, local TV news, or an in-house business video with your CEO – today's audiences have come to expect interviews to look a lot better than they did in the past.
And, there's no reason why they shouldn't look great, because shooting a good interview instead of a mediocre interview barely takes any extra effort. But the first thing you need to understand is that good interview lighting doesn't have very much to do with the equipment. You know the old saying that, it's not the tools you have, it's how you use them. Well, that certainly applies to good lighting.
"I have to say it's a very well done, thought out video. After 18 years doing this, I was still able to learn a few new tricks. For the beginning/intermediate shooter this is an invaluable learning tool. Even 20 year pros could use this, as a $1500 light kit really does cover 98% of the situations. Adding the section on makeup was a great idea, as most guys (at least me) don't have much experience applying makeup."
Richard Campbell
With 20 chapters of detailed explanations, examples, tutorials, and tips, this DVD demonstrates how to get great results — without getting bogged down in jargon and unnecessary information. It will show you exactly what you need to have in your light kit, and then take you step-by-step through the process of choosing a location, setting up the lights, and solving common challenges in real-world situations — NOT in a studio. Learning how to shoot an interview the right way will boost your career and make your docs look great.
We want you to be completely happy with your purchase, check out our Money Back Guarantee & Return Policy.