Here's What You Get:
The Book The Independent's Guide to Film Distributors
218 pages ISBN: 13: 978-0-9840925-0-5
---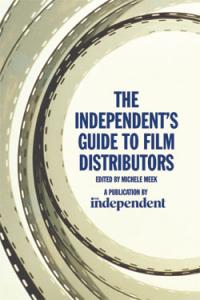 The Independent's Guide to Film Distributors is the definitive guide of independent film distributors.
This book is an absolutely indispensable tool for all serious independent moviemakers."
Tim Rhys, Editor-Publisher, MovieMaker

Magazine
It includes the contact and acquisition details of nearly 200 U.S. distributors carefully chosen for their focus on acquiring independent media – documentaries, narrative features, experimental films, shorts, and animation.
If you're not sure where to send your film, this is the book for you. It lists many distributors, and their acquisition information. The distributor Q & A part was also very helpful to me. Great for people just starting out in the film industry. Amanda A
Whether you are a seasoned independent producer, grassroots activist, or aspiring director, The Independent's Guide to Film Distributors will arm you with the information, advice, and resources needed to distribute your work:
Comprehensive profiles of distributors with acquisition contacts and company descriptions, along with the genres, lengths and subject matters each acquires
Tips on approaching distributors, prepping your film for distribution, and handling the contract negotiation
In-depth interviews with leading independent distributors such as Cinema Guild, Facets Multimedia, and Samuel Goldywn Films
Dealmaking Tips from Entertainment Attorney, Mark Litwak
Self Distribution Case Studies
Online Distribution Companies to Know
The only thing smarter than reading this book after you produce your film, is to read it before you produce your film.
We want you to be completely happy with your purchase, check out our Money Back Guarantee & Return Policy.