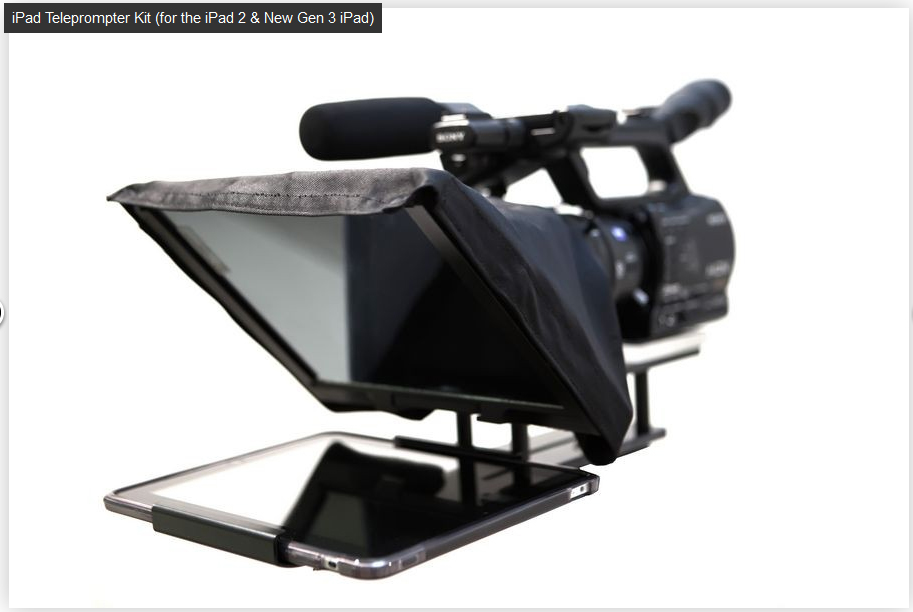 Click to enlarge
Here's what you get:
Acrylic Teleprompter Sled and Frame
Premium HD 70/30 Teleprompter Glass
Cloth Lens Hood
Camera Height Risers
Rubber iPad case
iPad Mounting Bracket (Fits the iPad 2 & the New gen.3 iPad)
Mounting Hardware
90-Day Warranty
*iPad, Tripod, Quick Release plate and camera not included.
**An iPad app is not included. Multiple teleprompting apps are available on the App Store, however due to Apple policies apps must be purchased from the app store. Some of the available apps allow remote control of the prompter speed using another iPad or iPhone on the same WiFi network. If you do not use another Apple device to control your prompting or do not have a separate controller you will be unable to change the scroll speed while in use. Support for apps purchased through the Apple app store are provided through the support links for each app. iPad and Apple are Trademarks of Apple Inc.
This iPad 2 & 3 teleprompter kit is designed for studio or on location use. ( or see the separate The iPad 2 & 3 teleprompter kit features an iPad case/mounting bracket for either the iPad 2 and iPad 3, and a teleprompter kit with hood, glass, and all required hardware. When filming anyone – actor or "real person" who must deliver a long passage of script straight to camera, it's hard to beat a teleprompter. The on-camera talent can read even a lengthy monologue from the teleprompter and it appears they aren't reading at all. See the iPad 1 kit here.
Premium HD 70/30 Teleprompter Glass
The mirrors in this iPad Teleprompter are the same mirrors used in high-end teleprompters costing $2,000 and more. They are high definition compatible, and have the highest optical quality on the market. One side is mirror coated, and the other has an anti-reflective coating. This allows your camera to have excellent picture quality, while still providing you with the reflection you need to see your text. The coatings are durable, and you can clean them with standard glass cleaner.
Product Features
Compatible with both the iPad 2 and newer Gen 3 iPad3
Achieve a professional teleprompting setup – for mobile or studio use
Premium, HD Compatible 70/30 teleprompter glass designed to provide the perfect balance of reflectance and pass-through without any distortion
Designed to work with most AVCHD or Mini DV to Mid-Size HD Cameras
Easy camera height adjustment
Includes a rubber iPad case and mounting bracket
Readable up to about 12 feet
Professional Quality at Affordable Price
We want you to be completely happy with your purchase, check out our Money Back Guarantee & Return Policy.