JonyPrompter with 15″ Flat Monitor switchable between VGA and Composite
Item #134A
Price: $1995.00 plus shipping
Quantity:
The Teleprompter with a JVC DV550U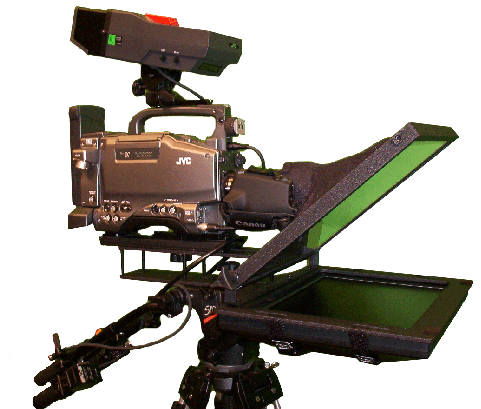 The Teleprompter with a Canon XL-1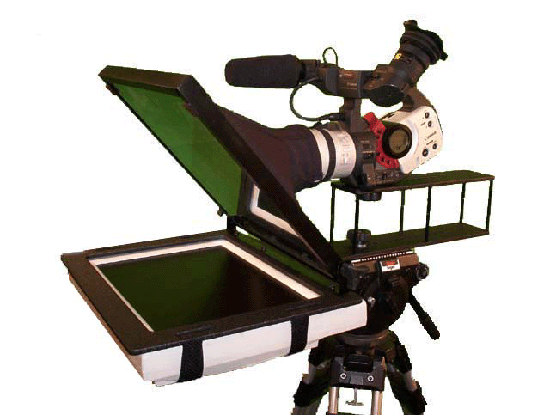 One of three JonyPrompters at CBS affiliate WDTV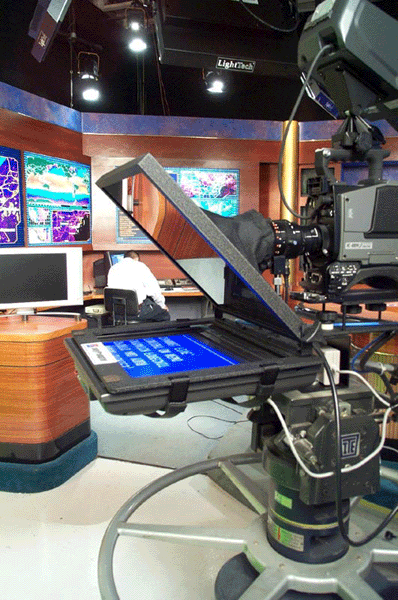 The JonyPrompter
This new generation teleprompter uses an VGA Composite LCD flat panel monitor. We believe the JonyPrompter is the best value for the money. It is well designed. This teleprompter is a 90% aluminum professional camera-mount teleprompter that is compact, lightweight and affordable. It supports full size ENG style video cameras as well as small Mini-DV style cameras. The mirror folds down for easy and safe transport. The JonyPrompter uses a 40/60 beamsplitter mirror like units costing thousands of dollars more.
This JonyPrompter system features an easy to use "flip up" design and includes all mounting hardware. It sandwiches between the camera and the tripod. There's a black shroud and drawstring that keeps light from sneaking in between the lens and the glass. It's easy to balance the camera with our unique "Slide in slot" arrangement.
Specs:
90% Aluminum
Paint Powder Coat Wrinkle Black
Beamsplitter
Properties 40R/60T (40% of the light is reflected; 60% is transmitted)
Dimensions 13.5″ x 14.5″
Main Support Platform Length (mirror up) 25″
Length (mirror down); Length 27″; Width 16″
Height (mirror up) 14″; Height (mirror down); Height 5″
Camera Support Platform Length 12″; Width 3.5″; Height 2″ or 4″
Monitor Frame Opening L x W 10″ x 13″
Tripod Capture Screw 3/8″
Camera Attachment Screws 3/8″ and/or 1/4″
Adjustable Nylon Straps Two accepts most 15″ & 17″ units
Video Maker Magazine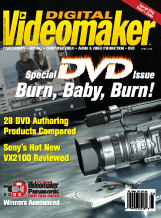 The JonyPrompter has "Solid construction, Great performance, Reasonable price"
"The JonyPrompter is a professional tool that makes a difference in production.
Frequently Asked Questions
Do JonyPrompters come with everything you need to start prompting?
All you need to add is your computer or laptop with software like Inteliprompter, your camera and a medium to heavy duty tripod. (the JonyPrompter weighs 18 to 21 lbs)
How do I balance the JonyPrompter on my tripod?
You don't need to, necessarily, if you have a "tilt locked down" shot. If you would like to tilt the camera during a prompter session and your camera weighs 12 pounds or more then your camera can be adjusted back and forth on the mount to achieve balance. For smaller cameras you may need to add a counterweight to the rear. There is a mounting hole on the bottom rear of the sled for this purpose. You may use a standard steel plate weight with a 1/2″ bolt, nut and a couple of washers.
What if I use a larger ENG style camera and a smaller DV style camera?
The JonyPrompter handles either camera. It ships with six 2″ camera platform standoffs installed. This setup is for the larger cameras and keeps the lens centered in the glass. For smaller cameras the platform need to be raised to keep the lens centered in the mirror. The JonyPrompter ships with 6 additional 2″ standoffs which raises the platform 2 more inches. You need a small philips screwdriver for the quick change-out. The JonyPrompter will fit in the custom carrying case in either configuration
How is the monitor secured?
The JonyPrompter is fitted with two heavy duty adjustable 1″ nylon straps with buckles. This allows you to fit just about any 14 to 17 inch flat panel LCD monitor to your JonyPrompter.
What kind of life span should I expect from the monitor?
The current models of LCD monitors are rated at 50,000 hours of life. That's about 5.7 years if you turn it on and never turn it off. If you use it 5 times a week for about an hour it could last 192 years. We're not saying that this is the last monitor you'll buy because who knows what they'll have in 10 years?
How does it attach to my tripod?
Much like your camera would, however we provide you with a longer 3/8″ capture screw that fits into the quick release plate on your tripod head. You remove your shorter one for the duration of the prompting session. We provide a threaded knob and spacer that cinches the prompter onto the capture screw.
How does it attach to my camera?
We provide you with two "knob bolts", a 3/8″ inch and a 1/4″ one. For larger cameras you may use both of these to secure your camera's quick release plate and for smaller cameras you'll just use the 1/4″ bolt.
Here's what the talent sees with either a VGA or Composite monitor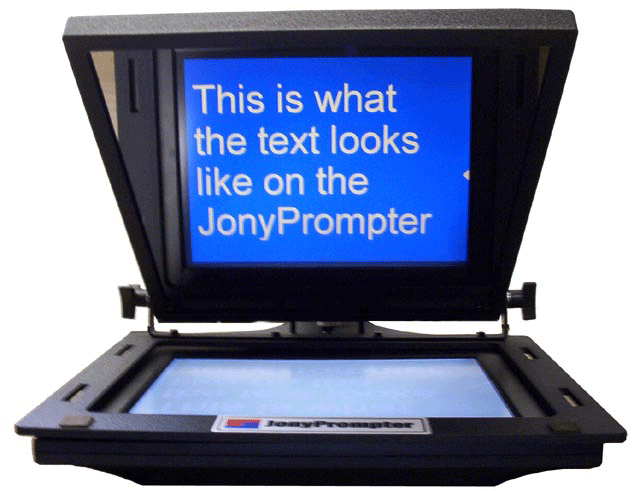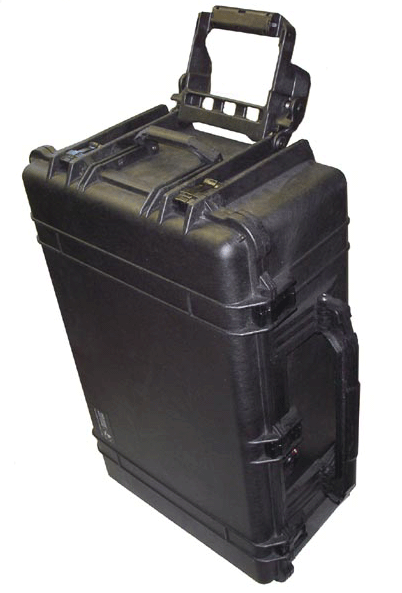 We want you to be completely happy with your purchase, check out our Money Back Guarantee & Return Policy.