Here's what you get: DVD (region free)
A Complete Course on DVD-ROM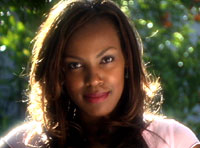 (see more stills from the video below)
DV Enlightenment is an illuminating lighting course of training, covering everything from essential lighting concepts and techniques to advanced secrets and tricks.
This course is for anyone wanting to shoot stunningly beautiful, cinematic quality footage for filmmaking, marketing projects, broadcast, special interest video, education or any other purpose.
Lighting Course Outline
Light Properties • understanding light and shadow • hard & soft light • color temperature • light direction • motivated lighting

---

Lighting Gear • soft boxes • umbrellas • gels • reflectors • flags • black wrap • cookies

---

The DVcreators.net Four Point Lighting Method • A brilliant, comprehensive lighting method for getting gorgeous looking footage in any location for any mood • key light options • fill & ambient light • lighting ratio • backlight, rimlight & kickers • background lighting • high key & low key lighting

---

Working with Sunlight • the Hollywood secret to shooting beautiful footage outdoors • positioning camera, subject & sun • shooting interiors with daylight • diffusers • magic hour

---

Lighting Greenscreen• top secret DVcreators.net method for evenly lighting chromakey backgrounds

---

White Limbo •

evenly lighting white backgrounds and a secret keying technique

---

Black Limbo

• how to "drop out" a dark background

---

Bright Ideas • a series of illuminating tips and tricks for getting cinematic looks in a variety of situations • lighting special effects • using practicals • accent lighting • candlelight • TV & computer light • the killer single light technique • fog
We want you to be completely happy with your purchase, check out our Money Back Guarantee & Return Policy.