Here's what you get:
Lens Pen
Amazing New Concept in Lens Cleaning Technology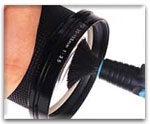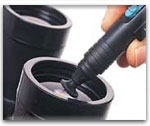 U.S. Patent 5,993,560
Recommended by
Nikon, Vivitar, Kodak, Discovery Channel and many others
"It's the first cleaning tool I reach for. I still haven't figured out how your cleaning compound works, but work it does. It definitely is a superior product." — Andy Long
The unique LensPen features a fully retractable ultra fine brush and a flexible chamois tip. It uses a proprietary carbon based cleaning compound that won't spill or dry out. There's nothing else like it on the market and the LensPen has won many awards for superior product design and usability. Contains a non-liquid compound that will not spill or dry out and its compact size fits into almost any pocket.
LensPen's revolutionary non-liquid compound is safe for all optical lenses and delicate lens coatings. While LensPen is highly effective, convenient and environmentally safe, it also leaves no trace of residue. Looking through any lens is made more enjoyable by using LensPen!
"I was originally a bit skeptical about this device, but this little tool really is quite remarkable. It's light, easy to use, and most importantly, it does the job perfectly." – Alan Zenreich
Lens Cleaning Made Easier:
Safe to Use on All Lenses
Flexible Cleaning Tip
Non Liquid Cleaning Compound will not spill or dry out
Reduces Static Build-Up
Fits easily into your pocket or bag
Awards
"On our test bench the LensPen proved the most effective in removing fingerprints and other contaminants from the lens surface, out-performing lens cleaning cloths. It's probably the cheapest insurance you will ever purchase." — VideoCamera and Electronic Imaging
LensPen was voted the "Accessory of the Year" in the Photo Trade News* Top Product of the year Competition. LensPen also won the "Design and Engineering Award" at the 1994 Summer Consumer Electronics Show* and the 1999 Laboratory Equipment magazine's Reader Choice Award.
We want you to be completely happy with your purchase, check out our Money Back Guarantee & Return Policy.