SPECIAL OFFER!
Three Mini DV Storage Racks
Item #122
Price: $64.71
plus $24.65 s/h in the U.S.
Here's what you get: Three Mini DV Storage Racks, each one holds 50 mini DV cassettes. That means storage for a total of 150 cassettes.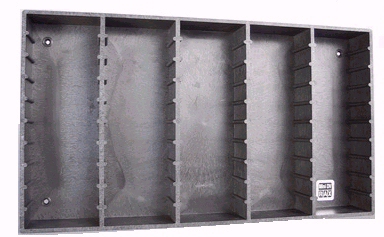 This rack is the right way to store DV tapes and you'll know it as soon as you put your first tape in it. Why buy a rack that only holds 24 tapes? You'd outgrow that in a few months.
This high-impact molded plastic is a very sturdy rack that holds 50 mini DV tapes and can be wall mounted either horizontally, vertically or just used as a stand-alone. See the three holes? They are for wall mounting. You can make a whole wall of them.
Dimensions: 15 3/4″ x 8 7/8″ x 1 3/4″
We want you to be completely happy with your purchase, check out our Money Back Guarantee & Return Policy.