Here's What You Get:
1. JonyPrompter Speech System with two 15″ Flat Monitors (switchable between switchable VGA and Composite) and Splitter
Presidential Speech Teleprompter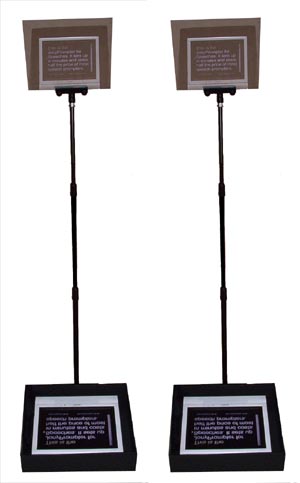 Speech Teleprompters come in pairs so the reader is not locked into looking in one direction
The JonyPrompter for Speech is a presidential style teleprompter system that is shipped in pairs. You've seen these flanking each side of the podium during speeches by the US President. When used this way these devices are often called "presidential glass." The 15″ flat panel color LCD monitors sit low and horizontal facing up while the angled transparent beamsplitter glass reflects the text into the view of the presenter. The audience usually just sees the top of the stand and a clear piece of glass and yet the President can read his or her entire speech on the teleprompter without the appearance of reading. The JonyPrompter for Speech is a complete system rivaling units twice their price. If you've been looking around at these you know what they cost.
The JPS System Includes:
2 rounded Beamsplitter Mirror Glass 13" x 14"
2 adjustable Mirror Clamps
2 adjustable Stand Masts
2 adjustable Mast Clamps
2 Stand Bases
4 adjustable Monitor Straps
2 Monitor Mounts
2 15″ switchable Color VGA or Composite Flat Monitors with splitter (other options available)
2 Monitor 5/8" Pins and knob bolts
2 VGA Cable 6' Male to Male
2 120VAC to 12VDC Power Supplies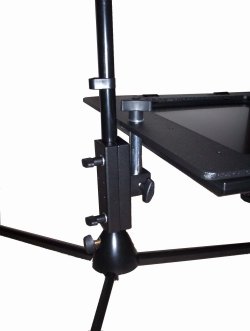 Adjustable Mast Clamp can raise or lower the monitor to the perfect height for your application.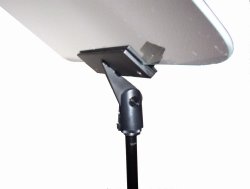 The Beamsplitter Clamp securely holds the glass in place. It is completely adjustable.

Also available for the JPS System:
Longer VGA or Composite Cables
VGA Flip Adapter (reverser)
VGA Splitter (1 in "" 2 out)
Custom Carrying/Shipping Case
Flip Q Software
Inteliprompter Software
Hand Speed Controller
Hinged Mirror/Shroud Conversion Kit
We want you to be completely happy with your purchase, check out our Money Back Guarantee & Return Policy.