Controller is for the Inteliprompter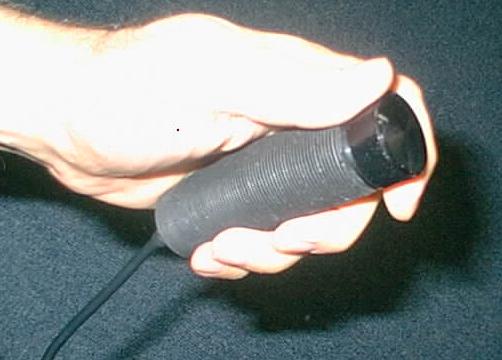 With this new speed controller you can…
Instantly select any scrolling speed you desire
Instantly pause the scrolling of your script
Instantly reverse the direction of your scrolling text with complete reverse speed control.
That's right! Change anything INSTANTLY! A simple twist of the speed control knob on our comfortable, handheld speed controller does all of the above. Instantly!
Our ribbed, soft rubber hand-held controller with its milled aluminum speed control knob fits very comfortably in the palm of your hand to make those long shoots seem shorter.
"It's like you buy a VW and get to drive a BMW!!!"
Martin Kerczynski – WPA Film Productions GmbH; Dortmund, Germany
This new speed controller allows you to operate Inteliprompter software like the $4,000 packages they use on Network news telecasts. The on-board micro-controller interprets the changing positions of the control knob, then immediately transmits the information to Inteliprompter via your computer's serial port. This means it will work with all IBM compatible computers, even laptops.
Change Batteries?!! Absolutely not! I've been there. Done that. Nothing is more frustrating than being part way through a great shoot and you have to yell 'CUT' because of a technical problem. That's why there is no battery to change. This controller is designed using very low power microelectronics which allow it to borrow all the power directly from the computer's serial port. Just plug it in to your computer and go. No power supplies. No batteries. No Hassles!
We want you to be completely happy with your purchase, check out our Money Back Guarantee & Return Policy.