To Purchase or Read the Full Description of The Cyber Film School CD ROM

Virtual Film Schools Are Here to Stay
Film Education looks promising on the World Wide Web
While this frontier is still largely untested, a quick survey of the options now available suggests that there are plenty of people and institutions determined to make online instruction a viable reality for moviemakers. Online classes are now offered by sources which range from highly respected colleges and universities to online-only up-and-comers. Some offer college credit, others supply a more ephemeral "certificate of completion," but all offer at least the convenience of classes you can attend in your underwear.
Cyber Film School may well be the granddaddy of online instructional sites devoted exclusively to the cinematic arts. Established in 1994, the Cyber Film School offers monthly articles, an archive of the best of past columns, discussion forums, a wealth of useful links, a boutique offering a wide range of film-related books, videos and software and their premier product, the Cyber Film School Movie School Encyclopedia CD-ROM.
While the CD is more of a self-help tool than a class in the traditional sense, this $49.00 investment is chock full of instruction, advice and tips from a variety
of film industry heavyweights including Norman Jewison, John Sayles, Nick Nolte, Kevin Spacey, Ron Bass, Mark Irwin and Anne Coates. The CD-ROM is designed to interface with the Cyber Film School Website, and the content is augmented with periodic online discussion forums. The disc also contains demo versions of a variety of software for editing and manipulating digital footage, as well as a number of tests and exercises.
One reviewer from Dark Horizons, an online film magazine, said of the CD-ROM, "There's almost too much here." Clearly, there's plenty of quality information to be had from the disc, if one has the self-discipline to work his/her way through it. The price is reasonable, given the amount of material provided. One downside is there is no scholastic credit associated with the product. Budding moviemakers will have to settle for the knowledge that they've absorbed a mountain of invaluable information. …

Film School in a Box?
Shame on you if the thought that it could be that simple crossed your mind, though if it did you particularly should keep reading. In fact, the less you know about the process of movie making and the deeper interest you have in finding out the basics, the better candidate you are to benefit from this. The folks at Cyber Film School were kind enough to provide us with a copy of their Movie School Encyclopedia. A CD-ROM that incorporates and expands on the information on filmmaking fundamentals that started on their web site. Billed as "the best way to learn moviemaking and gain access to the Internet's top filmmaking resources," we decided it was worth a look. Out to determine just what this product has to offer, and maybe lean something new, I quickly discovered just where this CD-Rom fits in the grand scheme of things. Basically, it's exactly what they claim it is in that quick, simple statement. I'd change one thing and say this, it's the best way to start learning…
The program is an easy setup, and can be run directly from the CD-ROM or fully installed on your PC, also available for the Mac. Simply designed, the encyclopedia is created as a series of HTML documents, designed like a web site, so navigation should be a familiar experience to most. Indeed you will need to have an Internet connection to fully take advantage of the encyclopedia, as it does occasionally take you online. Most of the information, though, is loaded onto your PC, so a constant connection is not necessary. Divided into sections that take you through an introduction, the history of filmmaking, into narrative outlines on screenwriting, theory and syntax, equipment and usage and editing and post. Basically, pages upon pages that take you through every step of the process. Quite basically.
The Movie School Encyclopedia is an excellent introduction to the basics. A good general overview of the things you will need to know, some immediately, some down the road. It is by no means a pre-packaged education, nor does it give you all the information you need to pack your bags and head for Hollywood. It's a start, and a good start. Why? Because as you well know if you've every tried, walking into a book store looking for a publication on filmmaking can be a serious headache. Standing there, face to face with countless books by countless people claiming to know the tricks to succeeding in the industry, yet suspiciously with enough free time to write a book, can be a daunting task. Ditto if you've ever tried to seek out a workshop or film school. This is a better way to start. Easier, cheaper and covering more aspects of the industry than a single book, my recommendation for anyone with absolutely no knowledge of movie making is to get your start here. Pick up this CD-ROM, take the time to go through everything, and then make some decisions about what area you want to focus further studies and research on. Take the hunt for the right publication or film school from there. You will learn a lot from this disc if you're starting from scratch.
What the Movie School Encyclopedia is not, is something for the filmmaker who has already found their field of interest. If you've already started on your career path in writing, directing or acting, you've likely already got enough knowledge of the fundamentals of all the related areas. As an actor and a writer I can honestly say there wasn't any new information to me. It's mostly basic but important steps of how movies get put together from start to finish. A foundation you would simply have to have to get very far in any field. So, this is not an advanced set of lessons or intensive and detailed breakdown of any particular aspect of filmmaking It is a good reference guide for those who want information of the fundamentals at their fingertips. Good if there is a part of the business that you seldom deal with and need to remind yourself. The best fit for this CD-ROM is definitely with the beginners though. There's much you can learn here that can help you understand the big picture, and guide you in the right direction, toward what interests you the most.
In addition to the breakdowns of each of the sections, there are some extra features too. Within each section you'll find video clips from actual film sets, and lesson assignments to help you gauge how well you're grasping the information, and what you're getting out of it. Most importantly, it will help you determine if it's something you enjoy. Though an art form, virtually every aspect of filmmaking can be more structured and involved than many are prepared for. After the lessons, additional sections link you to the Cyber Film School web site where you'll find recommendations for additional books to read and link to various web sites and resources you'll definitely want to bookmark.
In your search for all the information on filmmaking you can find, in order to get your foot in the door without first sticking it in your mouth, there is one important piece of advice I can give. Start simple, and broad. Something like this, a generic and comprehensive resource is an excellent start. From there, focus your interest and make decisions on what specifically interests you. If it's more than one field, deal with them either one at a time or double your efforts and read as much, discuss as much and learn as much about it as you possibly can. Most importantly, never for a single moment think that you know close to everything, or that you're through learning. If you've already started, you either already know or you've already given up. I can't really give advice to anyone who has already taken these steps, though I welcome an open discussion with anyone about it. This advice, and this CD-ROM is for those about to take the plunge. For you, welcome to the battle and get yourselves a copy of, or something similar to the Movie School Encyclopedia.
–Corona's Test Pattern

The Village Voice: Education: Listings
The Cyber Film School brings to your doorstep your very own movie school, open 24 hours a day. Through video interviews, demonstrations, images, tests, and assignments the school guides novices and professionals alike into the world of 21st-century motion picture production. It also features video demonstrations and great tips from the likes of Pulp Fiction producer Lawrence Bender…
Moonstruck), Lawrence Bender (Good Will Hunting, Pulp Fiction), and Anne Coates (Erin Brockovich, Lawrence of Arabia) contributed to the Cyber Film School's new CD-ROM. The "class" covers the history of cinema, screenwriting fundamentals, lessons on planning a budget, shooting and lighting techniques, and editing assignments. –Shana Liebman

Cyber Film School Movie School Encyclopedia is a CD-ROM filled with useful information about all aspects of film production. Utilizing a clear-cut approach, the title uses text, video clips, charts, diagrams and interviews with some of the most respected names in the business. No matter what your skill level, you will find an abundance of easy-to-understand information about everything from film history to lighting design. Using a Web browser as a platform, the CD-ROM includes the necessary plug-ins (QuickTime, Adobe Acrobat, Shockwave and Flash) to fully enjoy all of its features. Each section includes links to numerous additional resources. The ease of use and the professional quality of this CD-ROM are very impressive. Additionally, the disc comes with software and video clips to practice editing techniques. Demo copies of various video and audio programs complete the package. A very useful and informative CD-ROM. –rating 4 (out of 5)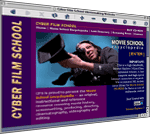 The advent of digital video cameras and inexpensive editing software has brought moviemaking within the grasp of millions of aspiring Spielbergs. Equipment alone does not, however, a director make. The Movie School Encyclopedia, published online by the Toronto-based Cyber Film School, offers detailed tutorials on the art and craft of making movies.
The Encyclopedia comprises six lengthy chapters, beginning with an Overview & Introduction, then going on to History & Appreciation, Story & Screenwriting, Theory & Syntax, Equipment & Usage, and Editing & Post. Within each chapter, the site offers a series of lessons about the specifics of the moviemaking process. In Story & Screenwriting, for example, visitors learn about the three-act structure of a screenplay, the basics of writing dialogue and scene description, and how to market a script. The tutorials are accompanied by illustrative video footage from commercials, TV shows and movies, as well as interviews with such filmmakers as Lawrence Bender (producer of Pulp Fiction and Reservoir Dogs), Norman Jewison (director of Moonstruck and The Hurricane), and Oscar-winning actors such as Nick Nolte and Kevin Spacey.
Each chapter has tests (two also have homework) to reinforce the lessons. In Theory & Syntax, filmmakers are asked to shoot a two-minute visual essay about their neighborhood, applying the lessons of camera movement, lens filters and shot angles .
To Purchase or Read the Full Description of The Cyber Film School CD ROM
We want you to be completely happy with your purchase, check out our Money Back Guarantee & Return Policy.